GARDEN TIPS
POT POURRI
Make your own Pot Pourri using flowers grown in your garden.

On a warm day collect rose petals, honeysuckle, lavender, rosemary and any other highly scented flowers that you have in the garden.
Put these petals on a tray and cover with salt. Turn daily until dry - which usually takes about 14 days.
Alternatively you can use a food dehydrator to dry the petals.
Put into jars with 1 ounce of mixed spice, shake well and your Pot Pourri is ready to use
PLANT SOCIETIES
GROWING AND CULTIVATION OF FLOWERS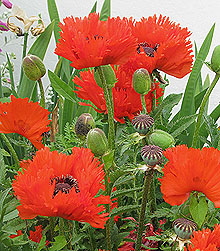 The Garden Grower flower pages contain a selection of articles on how to grow many species of popular garden flowers.
Topics include propagation, how to sow seed, advice on treating plants affected by pests and diseases and the different species and varieties of garden flowers.
Cultivate the best lavender, fuschia, poppies and many othe cottage garden and flower border favourites
Flowers have a beauty which inspire, calm and simply give pleasure. Our articles will help you to grow beautiful flowers in your garden.
---
---
FLOWERS - HOW TO GROW AND FLOWER ADVICE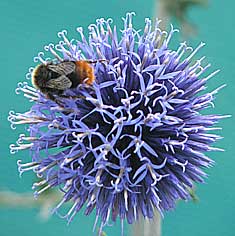 Achillea
Autumn Crocus
Bougainvillea
Coreopsis
Crocus
Crown Imperial
Cyclamen Daffodil
Darwin Tulip
Echinops
Foxglove
Grape Hyacinths (Muscari)
Greenhouse Fuschia
Hardy Cyclamen
Hardy Fuschia
Helleborus - Christmas Rose, Hippeastrum, Hollyhock, Hyacinth, Lady's Slipper Orchid, Leadwort, Lobelia, Oriental Lily, Oriental Poppies, Petunia, St John's Wort, Sweet Peas, Thrift, Toadflax
FLOWER PESTS and DISEASES
Red Lily Beetle
Carnation Rust
FLOWER CARE
Index of how to grow articles on how to grow flowers. Diferrent Species of Flower. Gardening techniques to produce the best flowers, seasonal tips.