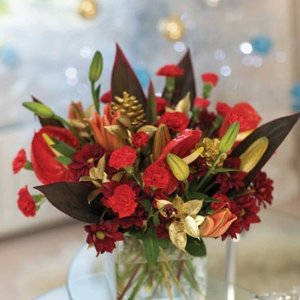 Florists in Hampshire - Floristry Flower arrangements and Flower Deliveries in Hampshire.
Cut flowers have been part of festivals and special occasions for many centuries - the ancient Egyptians used flowers in their rituals and celebrations, dried flowers have been found in the pyramids!
When selecting flowers as a gift think about the message that is being conveyed - During the reign of Queen Victoria people would select flowers that represented the sentiment that they wished to convey - Yellow Jasmine would represent modesty and grace, Red Roses meant love, Freesias innocence and trust while Irises signified passion!
A.B.C Flowers And Balloons- Southampton
Bouquets and Hand Tied Flowers, Specialist In Funeral Flowers, Wedding Flowers, Valentines, Mothers Day, Etc, Balloons, Delivery Service Available.
3 Main Road, Southampton, Hampshire SO40 4UZ
Phone: 023 8066 3717 Mobile: 07788 561734
Always Sentimentally Yours – Southampton
Bouquets, Fresh Flowers Daily, Free Local Delivery, Weddings and Funeral Specialist, Commissions Undertaken, Balloons.120, Merryoak Road, Southampton, Hampshire SO19 7QN
Phone: 023 8042 2895
s
Arcade Flowers Limited – Ringwood
Bouquets, Wedding Flowers, Funeral Tributes, Plants, Gifts, Chocolates, Vase Hire.
5 Peddlars Walk, Ringwood, Hampshire BH24 1EZ
Phone: 01425 471037
Blooms and Balloons – Portsmouth
Bouquets, Hand Ties, Aquapacks, Baskets, Balloons, Weddings, Balloon and Flower Decoration, Funeral Tributes, Local, National, International, Interflora.
158-160 Copnor Road, Portsmouth, Hampshire PO3 5BZ
Phone: 023 9266 3123
Blundell Flowers Limited – Southampton
Flowers For All Occasions, Specialists In Wedding Flowers, Online and Telephone Orders, UK and Worldwide Delivery, Champagne, Gifts, and Teddies, Balloons Chocolates and More. 12A Water Lane, Southampton, Hampshire SO40 3DP
Phone: 023 8086 2336
Casa Flora – Hook
Highly Skilled Expert Florist, Same Day Delivery and National and International Delivery.
London Road, Hook, Hampshire RG27 9DJ
Phone: 01256 762959
Charmaine Of Southsea – Southsea
Weddings, Same Day Delivery, Chocolates and Gifts, Interflora, Corporate Events.
168 Albert Road, Southsea, Hampshire PO4 0JT
Phone: 023 9200 6801
Christie's Florist – Southsea
Free Local Delivery, Same Day, Traditional and Modern Designs, Wedding Flowers, Sympathy and Funeral Flowers, Friendly Personal Service, Balloons and Chocolates.
96 Fawcett Road, Southsea, Hampshire PO4 0DN
Phone: 02392 297200
Corrines Florist – Gosport
Five times Chelsea gold medalist, Interflora premium member, Same Day Delivery Available, Sympathy and Funeral Flowers.
3 Stoke Parade,Stoke Road, Gosport, Hampshire PO12 1QE
Phone: 023 9200 7445
Fleurs Florist - Flower Shop -Southampton
Beautiful Hand-tied Bouquets, Funeral Flowers – Crematorium, Southampton Areas and Postcodes.
82 High Road, Southampton, Hampshire SO16 2HZ
Telephone: 02380 236226 / 02380 554785
Flowers In The Avenue – Liphook
Your Local Flower Consultants, Bouquets, Wedding Flowers, Funeral / Crematorium Flowers, Special Events and Corporate, Hand Tied Bouquets and Arrangements, Same Day Delivery.
64 The Avenue, Liphook, Hampshire GU30 7QS
Phone: 01428 770885
Forget Me Knots – Southampton
40 Moss Drive, Southampton, Hampshire SO40 4YD
Phone: 02380 871428
Four Seasons Florist – Southampton
Beautiful Floristry, Funeral Specialist, Weddings, Corporate, Gifts and Chocolate, E Florist Member, Same Day Delivery.
63 - 65 St Denys Road, Portswood, Southampton,
Hampshire SO17 2FJ Phone: 023 8058 4512
Jeannette Rawson Florists – Portsmouth
Deliveries Local and National, Weddings, Funerals And Gifts, English and Exotic Flowers, Hand-tied Bouquets, Modern and Classic Styles, Chocolates, Vases, Plants. Play video
224a Havant Road, Portsmouth, PO6 1PA
Phone: 023 9237 4207
Joan Kail Florist – Fareham
76a High Street, Fareham, Hampshire PO16 7AW
Phone: 01329 265111
Lee Florist – Lee-On-Solent
Same Day Delivery Available, Interflora Worldwide, Sympathy and Funeral Flowers,Weddings and Corporate. Hellium Balloon Decorations
76 High Street, Lee-On-The-Solent, Hampshire PO13 9DA
Phone: 023 9255 2680
Love Flowers On East Street Limited – Southampton
Wedding Flower Arrangements, Funeral Flower Arrangements, Hand Ties, Bouquets, Corporate Events, All Occasions.
5a East Street, Southampton, Hampshire SO14 3HE
Phone: 02380 710900
Mills In Bloom - Basingstoke
Bouquets and Arrangements, Weddings and Special Events, Basingstoke and The Villages, Funeral Flowers and Wreaths.
Phone: 01256 689699 / 01256 688351
Mills in Bloom - Winchester Flower Shop
Hand Tied Bouquets, Beautiful Funeral Flowers,
Same Day Local Delivery - 3pm
169 High Street, Winchester, Hants SO23 9BQ
Telephone: 01962 861999
Oasis Florists – Fleet
Same Day Delivery, Local, National, International, Modern, Exotic, Traditional, Weddings, Civil Partnerships, Interflora Member, Funerals And Sympathy Designs.
297, Fleet Road, Fleet, Hampshire GU51 3BU
Phone: 01252 447422
Penny Lane Flowers – Fleet
Birthdays, Weddings, Funerals Floral Tributes, Corporate Work.
4 Linkway Parade, Fleet, Hampshire GU52 7UL
Phone: 01252 412499
Rays Florists – Aldershot
Same Day Local Flower Delivery, Contemporary and Modern Designs, Daily Funeral Flower Delivery, Beautiful Wedding Flowers, Oasis Floristry Supplies.
151 Ash Hill Road, Aldershot, Hants GU12 5DW
Phone: 0800 0372025
Scents Of Occasion – Southampton
Designer and Traditional, Stunning Flowers and Plants, Dressed For Your Occasion, Corporate Contracts, Bouquets Delivered, Weddings, Friendly Reliable Trustworthy.
1 Crown Street, Southampton, Hampshire SO15 5LJ
Phone: 02380 703 892
Sheila Hurst Florist – Fareham
Flowers For All Occasions, Specialists In Wedding Flowers, Online and Telephone Orders, UK and Worldwide Delivery, Champagne, Gifts, and Teddies, Balloons Chocolates and More.
22 Middle Road, Fareham, Hants SO31 7GH
Phone: 01489 572547
Something Special – Woolston
Florist In Southampton, Artificial Flowers, Floral Bouquets, Flower Arrangements, Wedding and Funeral Flowers
36 Victoria Road, Woolston, Southampton, Hants SO19 9DX
Phone: 023 8044 4994
Stubbington Village Florist – Fareham
Creative Floristry and Design, Weddings, Funerals and Events, Corporate Floral Arrangements, Same Day Locally and Nationally, Friendly, Personal Service, Interflora Member.
17, Stubbington Green, Fareham, Hampshire PO14 2JG
Phone: 01329 265098
The Flower Shop – Southampton
Stunning Flowers Any Occasion, Freshness and Quality Guaranteed, Hand - Designed and Delivered
367 Winchester Road, Southampton, Hampshire SO16 7DJ
Phone: 0800 107 1946 / 02380 790447
The Flower Shop – Eastleigh
Stunning Flowers For Any Occasion Designed and Delivered
19 Fryern Arcade, Winchester Road, Eastleigh, Hants SO53 2DQ Phone: 0800 288 9543 / 02380 260600
The Flower Shop – Aldershot
Quality Flowers And Service, Interflora Nationwide Service, Same Day Local Delivery, Unique Contemporary Designs, Individual Wedding Designs, Funerals And Contract Work .
27 High Street, Aldershot,Hampshire GU11 1BH
Phone: 01252 321954
The Flower Shop – Southampton
433 Bitterne Road, Southampton, Hampshire SO18 5EE
Phone: 0800 1072677
The Flower Shop – Eastleigh
35 High Street, Eastleigh, Hampshire SO50 5LF
Phone: 0800 288 9745 / 02380 612589
The Flower Garden – Southampton
Flowers For All Occasions, Chocolates and Gifts, Teddies and Balloons, Local and Worldwide Deliveries, Same Day Deliveries, Wedding Specialists.
5 Upper Northam Road, Southampton, Hampshire SO30 4DY
Phone: 01489 784557
Village Flowers Garden and Home – Alton
Quality Fresh Flowers Daily, Beautiful Wedding Designs, Bespoke Bouquets and Chocolates, Cards, Balloons and Luxury Gift, Funeral Flowers. Local Delivery
7 Oak Green, Winchester Road, Alton, Hampshire GU34 5HQ
Phone: 01420 564497
Westgate Florists - Winchester
Order Over The Phone, Same Day Deliveries Until 3pm. Bouquets, Funeral Flowers and Arrangements Made Locally, Delivered. Winchester / All The Villages .
1 Clifton Lodge, Winchester, Hampshire SO22 5BH
Telephone: 01962 878828
Yasmin Design – Lymington
Contemporary Florist,Individually Designed Displays, Specialist Wedding Design, Local, National and International Delivery, Continental / Aqua Bouquets, Flowers For All Occasions.
20, St. Thomas Street, Lymington, Hampshire SO41 9NB
Phone: 01590 610510
Your Country Florist – Basingstoke
Real Independent Flower Shop, Traditional Or Contemporary, Corporate Party Themed Events, Wedding Consultations, Personalised Funeral Tributes, Local Or Worldwide Delivery.
Unit 5, 1 Reading Road, Basingstoke, Hampshire RG24 8LN
Phone: 01256 840222
GARDENING ADVICE ARTICLES ON GARDEN GROWER
Avon | Bedfordshire | Cheshire | Cornwall | Cumbria | Derbyshire | Devon | Dorset | East Sussex | Essex | Hampshire | Herefordshire | Hertfordshire | Isle of Wight | Kent | Lancashire | Leicestershire | Lincolnshire | Middlesex | Norfolk | Nottinghamshire | Oxfordshire | Shropshire | Somerset | Suffolk | Surrey | West Midlands | West Sussex | Wiltshire | Yorkshire
Floristry, Florists and Flower shops in Hampshire selling Flower Arrangements and freshly cut flowers ,flower posies and Floral Gifts, Florist shops in Hampshire Funeral flowers and Wedding Bouquets - Flowers Delivered by in all areas of Hampshire