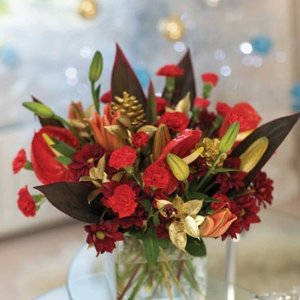 Florists in Cumbria - Flower Shops, and Home Flower Deliveries in Cumbria.
The colour of individual flowers is often what attracts most people to a chosen bouquet or flower arrangement, but there is a lot more to flower colours than being simply pleasing to look at.
Flowers have for centuries held a symbolism of their own, and the colour of a flower is traditionally filled with meaning as well as the variety of flower - with Red Roses being the fanourite flower to symbolise love and devotion.
Abracadabra - Flowersdirect – Sedbergh
Fabulous Flowers Delivered, Premium Hampers and Luxury Gifts, Local National International
49 Main Street, Sedbergh, Cumbria LA10 5BL
Phone: 0800 975 9940
Aroma Florist - Carlisle
60 The Market, Scotch Street, Carlisle, Cumbria CA3 8QX
Phone: 01228 599699
Baskets and Bunches – Wigton
Flowers For Every Occasion, Fresh Flower Bouquets, Beautiful Display Baskets, Gifts, Teddy Bears, Chocolates, Weddings Funerals Christenings
15 High Street, Wigton, Cumbria CA7 9NJ
Phone: 0169 73 25400
Bay Tree Florists – Carlisle
Weddings, Births, Funerals, Modern and Traditional, Flowers, Local and National Delivery, International Delivery, Fresh Cut Flowers, Teleflorist Member.
107 Denton Street, Denton Holme, Carlisle, Cumbria CA2 5EH
Phone: 01228 527286
Blooms - Flowersdirect – Barrow-In-Furness
Fabulous Flowers Delivered, Premium Hampers and Luxury Gifts, Local National International Delivery
96-98, Scott Street, Barrow-In-Furness, Cumbria LA14 1QE
Phone: 0800 975 9940
Bloomsberry – Carlisle
Flowers For All Occasions, Weddings, Funerals, Birthdays, Flower Arranging Tuition, National and International, Same Day Delivery, Weddings A Speciality.
45 Bank Street, Cumbria CA3 8HJ Phone: 01228 583814
Chofhs Florist – Kirkby Stephen
Fresh Flowers For All Occasions, Celebrations, Weddings, Funeral, Hand Tied Aqua Packs In Presentation Boxes. Silk and Dried Flowers. All Major Credit Cards Taken.
New Road, Kirkby Stephen, Cumbria CA17 4AS
Phone: 01768 341342
Deborah's the Florist – Barrow-In-Furness
43 Ainslie Street, Barrow-In-Furness, Cumbria LA14 5AY
Phone: 01229 825559
Dodds Designer Florist - Ulverston
34, Market Street, Ulverston, Cumbria LA12 7LR
Phone: 01229 588000
Diamond Flowers – Carlisle
Flowers and Arrangements, Wedding Flowers, New Baby, Funeral Flowers, Corporate Flowers, Accessory Hire.
9 Rosebery Road, Carlisle, Cumbria CA3 9HU
Phone: 01228 561 765
Edmondson Florists - Carlisle
45, Boundary Road, Carlisle, Cumbria CA2 4HH
Phone: 01228 810264
Evergreens – Keswick
Innovative Design, Bouquets For All Occasions, Stylish and Quality Flowers, Wedding Flowers, All Budgets.
7 Packhorse Court, Keswick, Cumbria CA12 5JB
Phone: 0176 87 74976
Fleurtations - Windermere
32 Main Road, Windermere, Cumbria LA23 1DY
Phone: 015394 48330
Flowers by Arrangement – Kendal
Interflora Florist
5 Library Road, Kendal, Cumbria LA9 4QB
Phone: 01539 736700 / 01539 734744
Flower Designs – Penrith
Local National and International Deleivery, Interflora, Teddies, Chocolate, Experienced Florists For Any Event, Wedding Flowers, Celebrations, Bouquets, Funeral Tributes.
33 Devonshire Arcade, Penrith, Cumbria CA11 7SX
Phone: 01768 265005
Flower Design - Carlisle
Stall 60, The Market, Scotch Street, Carlisle, Cumbria CA3 8QX
Phone: 01228 533314
Floral Design (Cumbria) Limited – Workington
Beautiful Fresh and Silk Flowers, Traditional and Contemporary, Specialist Wedding Service, Birthdays, Funerals, Beautiful Bouquets, Local and National Delivery.
6 Nook Street, Workington, Cumbria CA14 4EG
Phone: 01900 603 238
Flowercraft – Barrow-In-Furness
Hand - Crafted Flower Designs.
2 Ainslie Street, Barrow-In-Furness, Cumbria LA14 5BJ
Phone: 01229 829518
Greenbanks - Goulds - flowersdirect – Kendal
Fabulous Flowers Delivered
97A, Stricklandgate, Kendal, Cumbria LA9 4RA
Phone: 01539 731677
Impulse Flowers - Kendal
73 Highgate, Kendal, Cumbria LA9 4ED
Phone: 01539 733548
Inspirations – Workington
Fresh and Silk Flowers, Floral Accessories, Wedding Bouquets, Funeral Tributes, Members Of Flowers By Florists, Local, National, Worldwide.
34, Finkle Street, Workington, Cumbria CA14 2BB
Phone: 01900 510636
Linda's Flowers – Carlisle
Flowers For All Occasions, Weddings - Funeral – Birthdays, Valentines Flowers, Same Day Delivery, Local and International, Credit Cards Accepted.
95, Denton Street, Carlisle, Cumbria CA2 5EG
Phone: 01228 582829
Oasis Florist – Barrow-In-Furness
62, Cavendish Street, Barrow-In-Furness, Cumbria LA14 1PZ
Phone: 01229 820 105
Rapunzel Floral Design – Cleator Moor
55 High Street, Cleator Moor, Cumbria CA25 5BQ
Phone: 01946 815765
Southern Lakeland Nurseries – Grange-Over-Sands
Fresh Cut Flowers, Special Occasions, Funeral Tributes, Weddings and Anniversaries, Bouquets and Plants.
Station Road, Cark-in-Cartmel, Grange-Over-Sands,
Cumbria LA11 7JZ Phone: 0153 95 58237
Valerie Ann's Quality Florist - Windermere
27b, Crescent Road, Windermere, Cumbria LA23 1BJ
Phone: 015394 42068
Vandella Flowers – Carlisle
Beautiful Floral Gifts
181, Newtown Road, Carlisle, Cumbria CA2 7LN
Phone: 01228 536096 Phone: 01228 522008
GARDENING ADVICE ARTICLES ON GARDEN GROWER
Avon | Bedfordshire | Cheshire | Cornwall | Cumbria | Derbyshire | Devon | Dorset | East Sussex | Essex | Hampshire | Herefordshire | Hertfordshire | Isle of Wight | Kent | Lancashire | Leicestershire | Lincolnshire | Middlesex | Norfolk | Nottinghamshire | Oxfordshire | Shropshire | Somerset | Suffolk | Surrey | West Midlands | West Sussex | Wiltshire | Yorkshire
Florists Floristry Flower shops in Cumbria selling Bouquets, Flower Arrangements and freshly cut flowers ,flower posies and Floral Gifts, Florist shops in Cumbria Funeral flowers and Wedding Bouquets - Cut Fresh Flower Bouquets Delivered by florists in all areas of Cumbria