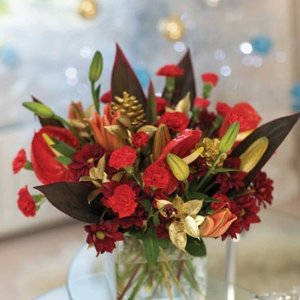 Florists in Lancashire - Flower Shops, and Home Flower Deliveries in Lancashire.
Always buy your flowers from a reputable florist, and select flowers that have firm petals or that have buds that show some colour to make sure the cut flowers will develop into full blooms.
When buying flowers, also buy or ask for commercial cut flower food if it has not already been supplied. Flower food contains nutrients to feed the flowers and to keep bacteria at bay. Flower food will also encourage flowers buds to open and lengthen the life of the flowers.
All Occasions - Wigan
Creative Floristry,Beautiful Funeral Tributes Floral Bouquets, Corporate Events Specialist, Weddings,Parties,Funerals.
83 Park Road, Wigan, Lancashire WN6 7AE
Phone: 01942 244063
Ann Barnes Florist - Blackpool
Same day local delivery, Traditional and Modern Styles, Flowers for all occasions, Teddies, Balloons and Chocolates
292, Highfield Road, Blackpool, Lancashire FY4 3JU
Phone: 01253 348492
Buds To Blooms - Rossendale
Flower World International, Weddings, Funerals, Corporate, Fresh - Silk - Dried Flowers, Modern / Traditional Designs
7 Pleasant Street, Rossendale, Lancashire BB4 5LG
Phone: 01706 214612
Baytree Flowers - Manchester
Weddings, Funerals, Birthdays, Local Delivery Service, Telephone Orders Welcome, Credit Cards Accepted, Contemporary Flower Designs, Cards and Gifts Available.
530 Oldham Road, Manchester, Lancashire M24 2EB
Phone: 0161 653 7007
Blossom - Manchester
Beautiful Seasonal Flowers, Same-Day Local Delivery, Wedding And Event Specialist, Corporate And Home Styling, Sympathy And Funeral Tributes, British Flower Specialist.
97 Manchester Road, Manchester, Lancashire M21 9GA
Phone: 0161 881 4567
Collins The Florist - Chorlton
Interflora Florist, Local National, International, Same Day Fast Local Deliveries, Fresh Flowers From Holland, Funeral Tribute Specialists, Modern and Traditional Flowers.
273 Barlow Moor Road, Chorlton, Manchester,
Lancashire M21 7QF Phone: 01600 731025
Cullens – Ashton-Under-Lyne
Hand - Crafted Designs, Quality Guaranteed, Same Day Delivery, National Delivery, International Delivery.
37 Market Avenue, Ashton-under-Lyne, Lancashire OL6 6BT
Phone: 0161 330 5036
Crosbies The Florist - Manchester
Same Day Delivery Florists, lowers For All Occasions, Funeral Tribute Specialists, Weddings, Birthdays
22 Bury New Road, Manchester, Lancashire M25 0LD
Phone: 0161 773 9434
Designer Flowers By Rodgers Limited - Manchester
Flowers For All Occasions, Bouquets and Wedding Flowers, Local and National – Interflora, Same Day Delivery – Interflora, Sympathy and Funeral Flowers, Seasonal Gifts.
111 Piccadilly, Manchester, Lancashire M1 2HY
Phone: 0161 637 3194
Designer Flowers by Rodgers Limited - Manchester
Flowers For All Occasions, Bouquets and Wedding Flowers, Local and National Interflora, Sympathy and Funeral Flowers, Seasonal Gifts, Same Day Delivery Interflora.
Nelrose, Princess Road, Manchester, Lancashire M20 2LT
Phone: 0161 637 3150
Design Element - Manchester
Mothers Day Flowers and Gifts, Funeral Tributes / Sympathy, Bespoke Wedding Flowers, Toys, Chocolates, Corporate Displays, Plants, Floristry Courses.
67 Liverpool Road, Manchester, Lancashire M44 6EH
Phone: 0161 441 6131
Diddybox Limited – Astley Bridge
All Bolton Areas Covered, Fresh Traditional, Exotic Flowers, Funerals and Wedding Specialist, Gifts, Cards and Balloons,
132-134 Belmont Road, Astley Bridge, Bolton,
Lancashire BL1 7AN Phone: 01204 595610
Flowers Galore - Blackpool
Interflora Agent, Local Funeral Experts, Great Value Bouquets, Same Day Delivery
331 Red Bank Road, Blackpool, Lancashire FY2 0HJ
Phone: 01253 354189
Flowers By Harris UK Limited - Rochdale
Unusual and Exotic Flowers, Chocolates, Wedding and Funeral Flowers, Balloons and Gifts; Hand Tied, Same Day Delivery; UK Wide, Interflora, Bouquets.
509 Bury Road, Rochdale, Lancashire OL11 4DG
Phone: 01706 645721
Flowers etc. - Accrington
Funerals and Weddings, Local, National and International, Same Day Deliveries, Memorial Stones Balloons Gifts.
255 Whalley Road, Accrington, Lancashire BB5 5AD
Phone: 01254 234424
Flower Scentsations - Blackpool
Same Day Delivery, Fresh and Silk Flowers, Wedding and Funerals, All Special Occasions, Affordable, Beautiful Flowers,
294 Devonshire Road, Blackpool, Lancashire FY2 0TN
Phone: 01253 591921
Floral Inspirations - Bolton
Flowers For All Occasions, Weddings, Funerals, Birthdays, Corporate Functions, Same Day Delivery, Exotic, Contemporary, Traditional, Wide Selection Of Giftware.
72, Church Street, Bolton, Lancashire BL5 3RS
Phone: 01942 368298
Four Seasons Floral Designs - Manchester
Same Day Delivery, Exotic and Unusual Flowers, Hand Tied Bouquets, Weddings and Funerals,Balloons and Gifts, Local and National Delivery.
12 Greenbrow Road, Manchester, Lancashire M23 1EX
Phone: 0161 945 7677
Fleur Couture - Nelson
Flowers For All Occasions, Wedding Specialists, Sympathy and Funerals, Modern, Bespoke Designs, Same Day Delivery
102, Gisburn Road, Nelson, Lancashire BB9 6EW
Phone: 01282 698005
Harlequin Flowers - Chorley
Nationwide Flower Deliveries, Weddings, Funerals, Birthdays, Anniversaries, Corporate, Funeral Flowers, Bouquets, Flower Arrangements, Florists, Gifts, Births, Local Delivery.
184 Eaves Lane, Chorley, Lancashire PR6 0AU
Phone: 01257 234671
House of Flowers and Plantwerks - Barnoldswick
Wedding Flowers, Funeral Flowers, Functions and Corporate, Traditional and Modern Flowers, Fresh and Artificial Flowers, Contemporary Flowers.
2 Frank Street, Barnoldswick, Lancashire BB18 5AE
Phone: 01282 812052
In Bloom Florists - Darwen
Same Day Delivery Before 3pm, Flowers For All Occasions, Funeral and Sympathy Tributes, Wedding and Event Specialist,
185 Duckworth Street, Darwen, Lancashire BB3 1AU
Phone: 01254 777332
Jeanette - Blackpool
Contemporary Flowers, Interflora Florists, Weddings, Funerals, Corporate, Same Day Deliveries.
33 Highfield Road, Blackpool Lancashire , FY4 2JD
Phone: 01253 400023
Miller's Florist - Oldham
Same Day Delivery, Fresh and Silk Flowers, Wedding Specialists, Celebration Helium Balloons, Beautiful Gifts For The Home, Classic and Unusual Designs.
102a, Huddersfield Road, Oldham, Lancashire OL4 2AH
Phone: 0161 6691775
Peter and Margaret Florist - Bolton
Modern and Traditional Floristry, Teddies and Balloons, Chocolates, Local, National, International, Full Interflora Delivery,
534, Chorley Old Road, Bolton, Lancashire BL1 6AB
Phone: 01204 326718
Petals Florist - Darwen
Flowers For All Occasions, Weddings and Funeral
Market Hall, Croft Street, Darwen, Lancashire BB3 1BH
Phone: 01254 919304
Rhapsody In Bloom - Chorley
Basket Arrangements, Local Flower Delivery, Hand Tied Bouquets, Wedding Flowers, Funeral Flowers, Gift Selection.
Shop 5, The Green, Chorley, Lancashire PR7 5UP
Phone: 01257 450311
Robinsons Florist and Balloon Decorators - Morecambe
Bouquets, Exotic Flowers, Weddings, Funerals, Birthdays, Corporate, Contracts, Gifts, Contemporary and Traditional Balloon Decoration.
12 Princes Crescent, Morecambe, Lancashire LA4 6BX
Phone: 01524 831355
Rose Hip - Bolton
Fabulous flowers, Bespoke designs, Wedding specialist, Unique corporate flowers, Local to national delivery, Handmade cards.
50 Newbrook Road, Bolton, Lancashire BL5 1ER
Phone: 01204 63222
Sue's Bluebells - Darwen
Superb Fresh Flowers, Funeral Flower Specialists, Wedding Flowers, Bouquets For All Occasions, Event Florists
33 Earnsdale Avenue, Darwen, Lancashire BB3 1JW
Phone: 07582 832948
Sugarberry Limited - Wigan
185 Upholland Road, Wigan, Lancashire WN5 7DL
Phone: 07795 288539
Sue's Florist - Manchester
Same Day Local Delivery, Major Credit Cards Accepted, Weddings, Funerals, All Events, Floral Tributes and Bouquets, Balloons and Hand Ties, Me To You Teddy Collection.
256 Liverpool Road, Manchester, Lancashire M30 0SD
Phone: 0161 789 0925
The Flower Shop - Clitheroe
Interflora Florist, Quality Flowers Guaranteed, 3 Hr, Same / Next Day Delivery, International Flower Delivery, Chocolates Teddies, Balloons Bouquets and Gifts.
37-39 Wellgate, Clitheroe, Lancashire BB7 2DP
Phone: 01200 422435
The Flower And The Glory - Littleborough
Wedding and Event Flowers, Funeral and Sympathy Flowers, Local Delivery, Bouquets, Designer Flowers, Contemporary and Classic Design, Contracts Welcome.
70 Church Street, Littleborough Lancashire OL15 8AU
Phone: 01706 395213
The Strawberry Basket - Morecambe
Traditional and Modern Flowers, Interflora - Credit Cards, Funeral Specialists, Same / Next Day Deliveries, Same Day Delivery Order By 3pm, Weddings, Birthday
374, Heysham Road, Morecambe, Lancashire LA3 2BJ
Phone: 01524 235064
The Hanging Basket - Lancaster
Interflora Specialists, Local - National – Worldwide, Same Day Delivery Flowers For All Occasions.
3 Brock Street, Lancaster, Lancashire LA1 1UR
Phone: 01524 235988
Westwells - Bolton
Quality Flowers Delivered, Flowers, Chocolates, Balloons, Weddings, Anniversaries, Funerals, Christenings, Party, Plants, Luxury Gifts, Birthday, Interflora, Same Day Delivery.
98 Deansgate, Bolton, Lancashire BL1 1BD
Phone: 01204 327217
Wilkinsons Florist - Blackpool
Unique 3 Hour Delivery, Hand - Crafted Designs,Quality Guaranteed, Same Day Delivery, National Delivery, International Delivery.
30-34, Talbot Road, Blackpool, Lancashire FY1 1LF
Phone: 01253 620308
GARDENING ADVICE ARTICLES ON GARDEN GROWER
Avon | Bedfordshire | Cheshire | Cornwall | Cumbria | Derbyshire | Devon | Dorset | East Sussex | Essex | Hampshire | Herefordshire | Hertfordshire | Isle of Wight | Kent | Lancashire | Leicestershire | Lincolnshire | Middlesex | Norfolk | Nottinghamshire | Oxfordshire | Shropshire | Somerset | Suffolk | Surrey | West Midlands | West Sussex | Wiltshire | Yorkshire
Floristry, Flower shops and Florists in Lancashire selling Flower Arrangements and freshly cut flowers ,flower posies and Floral Gifts, Florist shops in Lancashire Funeral flowers and Wedding Bouquets - Cut Flowers and Bouquets Delivered in all areas of Lancashire