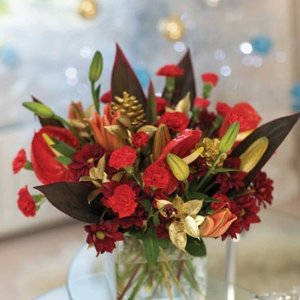 Florists in Wiltshire - Floristry, Bouquets, Flower arrangements and Flowers Delivered.
Where to find a Florist shop selling flowers, arrangements and bouquets in Wiltshire
Floristry has been used for hundreds of yearsas a way to celebrate birthdays, anniversaries, festivals, make tributes and as a way to express our love. A beautiful flower is a piece of art in itself, but a skillful florists can create stunning works of art using flowers in the art of Floristry.
In the Victorian era flowers were recognised for the different messages and meanings - Roses symbolised love while lilies usually symbolised beauty.
Absolutely Fabulous – Trowbridge
Classic Phone: Contemporary Flowers, Tele-florist National Delivery, Weddings, Funerals, Gifts, Hand Tied and Classic Bouquets, Fresh Long Lasting Flowers, Family Run Business.
3, Church Walk, Trowbridge, Wilts BA14 8DX
Phone: 01225 515142
Ammi Flowers LLP – Devizes
Flower Shop And School, Specialists In Wedding Flowers, Personalized Funeral Flowers, Corporate Flower arranging and Event Flowers, Beautiful Gifts and Plants, National Delivery.
13 Maryport Street, Devizes, Wiltshire SN10 1AH
Phone: 01380 714696
Ann-E - Swindon
Packers, 23 High Street, Swindon SN5 4AE
Phone: 01793 770127
Austen Flowers - Swindon
54 Hallsfield, Swindon, Wiltshire SN6 6LS
Phone: 01793 750967
Blooms – Warminster
Beautiful Bespoke Flowers, Weddings and Funerals, Birthday and Anniversaries, Gifts Also Available In Store, All Local Deliveries, Also National and International.
10, Weymouth Street, Warminster, Wiltshire BA12 9NR
Phone: 01985 806394
Bonnies - Swindon
547 Cricklade Road, Swindon, Wiltshire SN2 1AH
Phone: 01793 705026
Cascade Flowers – Salisbury
Hand crafted designs, Same Day Delivery, National Delivery, International Delivery of Flowers.
32 Salisbury Street, Salisbury, Wiltshire SP4 7HD
Phone: 01980 590740
China Rose - Pewsey
7a - 7b, High Street, Pewsey, SN9 5AF
Phone: 01672 563796
Daisy Chain Floral Designers – Corsham
Wedding Specialist, Hand Crafted Designs, Quality Guaranteed, Same Day Delivery, National Delivery, Variety Of Gifts In Stock.
6 Martingate, Corsham, Wiltshire SN13 0HL
Phone: 01249 471031
Evolution – Swindon
Flowers With Style and Emotion, Chelsea Flower Show Medallist, Free Same Day Local Delivery, Wedding Floral Specialist, Fresh Flowers - Any Occasion, Bespoke Arrangements.
Unit 6, Great Western One, Swindon, Wiltshire SN1 5ET
Phone: 01793 644444
Fleur - Swindon
2 Park Lane, Swindon, Wiltshire SN1 5HG
Phone: 01793 422123
Flower Care – Melksham
Quality Fresh Flowers, Imported Direct From Holland, Same Day Deliveries, Corporate Enquiries Welcome, Sympathy Floral Tributes, Hand Ties
24, High Street, Melksham, Wiltshire SN12 6LA
Phone: 01225 433036 or 01225 433188
Floral Design – Swindon
Flowers With A Difference, Gorgeous Wedding Designs, Couture Bouquets, Traditional and Contemporary, Hand Tied Bouquets,All Budgets and Venues Catered.
5 Whitehouse Road, Swindon, Wiltshire SN2 1BZ
Phone: 01793 430033
Gullicks Florists - Salisbury
109 Fisherton Street, Salisbury, Wiltshire SP2 7SS
Phone: 01722 336575
Guelder Rose – Swindon
Florists, Wootton Bassett, Valentines, Mothers Day, Local and National Deliveries, Corporate Events, Wedding Florists, Funeral and Church Flowers,
20 High Street, Swindon, Wiltshire SN4 7AA
Phone: 01793 854949
Hedge Rose – Marlborough
Contemporary, Designer Florist Serving The North Area of Wiltshire. Gorgeous Hand-tied Bouquets Made For Same Day Delivery.
6 London Road, Marlborough, Wiltshire SN8 1PH
Phone: 01672 514718
Highworth Flowers – Swindon
Same Day and Next Day Delivery, Flowers For All Occasions, Hand Tied Bouquets, Flowers For Offices, Balloons, Chocolates, Teddies, 22 Years Experience.
19 High Street, Swindon, Wiltshire SN6 7AG
Phone: 01793 861900
I V Florist - Swindon
58a High Street, Swindon, Wiltshire SN6 8AA
Phone: 01793 782022
Kaylee's Flowers – Swindon
Personalized Funeral Tributes, Weddings, Home Visits-Weddings and Funerals, Bouquets and Flower arrangements, Corporate Flowers, Local and Surrounding Delivery.
3, Hexham Close, Swindon, Wiltshire SN5 8LT
Phone: 01793 871326
Karin's Flowers – Salisbury
Bespoke Wedding Flowers, Flowers For All Occasions, Balloons, Giftware, Toys, Quality Service, Style and Value, Flowers For all kinds of Corporate occasions.
Unit 4, The Plaza, Bulford Road, Salisbury, Wiltshire SP4 8DL
Phone: 01980 655095
Shirley's Florists - Calne
29 High Street, Calne, Wiltshire SN11 0BS
Phone: 01249 817089
Stems Florist - Trowbridge
Bridge House, Canal Bridge, Trowbridge, Wiltshire BA14 6JT
Phone: 01225 700020
Ted Martin Flowers - Salisbury
The Square, Salisbury, Wiltshire SP3 6JP
Phone: 01747 871333
The Flower Factory - Swindon
65 Faringdon Road, Swindon, Wiltshire SN1 5DQ
Phone: 01793 431999
The Floral Shop – Trowbridge
Hand - Crafted Floral Designs and Flower Arrangements, Same Day, National and International Delivery.
109 St Thomas Road, Trowbridge, Wiltshire BA14 7LT
Phone: 01225 752618
The Flower Company - Swindon
81 High Street, Swindon, Wiltshire SN4 9JZ
Phone: 01793 845151
GARDENING ADVICE ARTICLES ON GARDEN GROWER
Floristry and Florists and in Wiltshire selling Cut Flowers and Flower Arrangementa, Flower Baskets, posies and Floral Gifts, Fresh Cut Flowers, and Wedding Bouquets - Flowers Delivered by Florists in all areas of Wiltshire