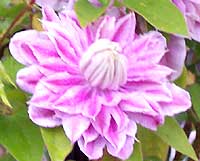 PLANT GUIDES
SOCIETIES

FIND A PLANT - SPECIALIST NURSERIES
Although general garden centres stock a good variety of plants, to create a really interesting and individual garden it is best to buy plants from a specialist nursery.
Buying from a specialist nursery will give you a much wider choice of different types of garden plants. You will also get expert advice on choosing, planting and caring for the plant that you select.
Before you visit a specialist plant grower or nursery it is usually best to phone first - some private garden nurseries and growers are not open to the public 7 days a week .
UK SPECIALIST PLANT NURSERIES

Acer and Japanese Maple nurseries
UK Clematis Nurseries
UK Cacti and succulents specialist nurseries
Carnivorous Plant Specialists
Fuchsia Specialists and Growers
Herb Nursery and Herb Growers
Olive Tree Specialist Nurseries
Orchid Nurseries
Palms and Palm Tree Nurseries
Rhododendron Specialist Nurseries
USA SPECIALIST PLANT NURSERIES
USA Clematis nurseries and specialist growers
UK GARDEN CENTRES
The UK has many excellent Garden Centres which sell everything for the garden. Each one has its own character and a different selection of garden products. Its well worth visiting more than one to make sure that you get exactly what you want for your garden. many garden centres have a cafe or restaurant - so make a day out of it!
Garden Centres in Avon
Garden Centres in Bedfordshire
Garden Centres in Berkshire
Garden Centres in Buckinghamshire
Garden Centres in Cambridgeshire
Garden Centres in Cheshire
Garden Centres in Cornwall
Garden Centres in Cumbria
Garden Centres in Derbyshire
Garden Centres in Devon
Garden Centres Dorset
Garden Centres in Essex
Garden Centres in East Sussex
Garden Centres in Gloucestershire
Garden Centres in Hampshire
Garden Centres in Herefordshire
Garden Centres in Hertfordshire
Garden Centres in the Isle of Wight
Garden Centres in Mid Kent UK
Garden Centres in Lancashire UK
Garden Centres in Leicestershire
Garden Centres in Norfolk
Garden Centres in Northamptonshire
Garden Centres in Surrey - page 1
Garden Centres in Surrey - page 2
Garden Centres in Wiltshire
UK FENCING SUPPLIES AND STOCKISTS