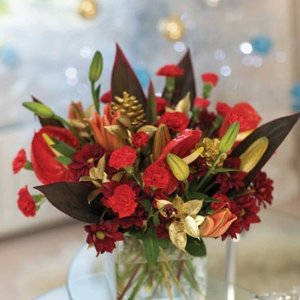 Florists in Dorset - Flower Shops, and Home Flower Deliveries in Dorset.
Cut flowers are presented for sale by florists in various different forms:
Hand-Tied - Flowers are sold in ready arranged bouquets which, as suggested by the description are tied in the middle and normally wrapped in cellophane.
Flat-Pack Bouquet - Flowers are arranged in a traditional sheaf of flowers
Arrangement - Flowers are presented arranged in a floral foam oasis - sometimes in a basket.
Amore Florist Limited – Bournemouth
Flowers and Gifts For All Occasions and Celebrations, Bouquets, Plants, also Chocolates and Helium Balloons. Funerals, Birthdays, Corporate, Wedding Packages.
932 Ringwood Road, Bournemouth, Dorset BH11 8NL
Phone: 01202 570101
A Touch Of Love Florist – Wimborne
Personal Touch To Floristry, Free Local Delivery, Bouquets, Aqua, Arrangements, Venue Dressing and Chair covers, Wedding flowers, Free Home Consultation.
109 Cutlers Place, Wimborne, Dorset BH21 2HX
Phone: 01202 881646
Bloom - Swanage
Tillymead, Commercial Road, Swanage, Dorset BH19 1DF
Phone: 01929 426197
Country Florists – Broadstone
All Aspects Of Floristry, Weddings, Funerals, Corporate, Local and National Deliveries, Traditional and Contemporary, Bouquets, Displays and Baskets, Balloons.
200 Lower Blandford Road, Broadstone, Dorset BH18 8DP
Phone: 01202 659052
David Ragg Flowers – Wimborne
Interflora Florists, Quality Flowers Guaranteed, Same Day And Express Delivery, Dynamic And Contemporary, Weddings, Funerals.
8 The Square, Wimborne, Dorset BH21 1JA
Phone: 01202 906084
Edward's and Company - Poole
83 Commercial Road, Poole, Dorset BH14 0JD
Phone: 01202 746088
Ena's Florists - Bournemouth
20 Seamoor Road, Bournemouth, Dorset BH4 9AR
Phone: 01202 763347
Faborge Flowers - Christchurch
UK and Worldwide Delivery, Bouquets, Arrangements, Weddings, Funerals, Sympathy, Birthdays, Anniversaries, Corporate, Plants, Hand Tied Aquas, Order Online, Traditional and Contemporary.
129 Purewell, Christchurch, Dorset BH23 1EJ
Phone: 01202 481007
Fairmile Florist - Christchurch
6 St Catherines Parade, Fairmile Road,
Christchurch, Dorset BH23 2LQ Phone: 01202 484711
Ferndown Florists – Ferndown
Weddings Funerals and Births, Birthdays and Special Occasions, Highest Quality Fresh Flowers, Balloons Gifts and Plants, Interflora Florist, Local and Worldwide Delivery.
101 Victoria Road, Ferndown, Dorset BH22 9HU
Phone: 01202 873271
Flowers At 166 Florists – Bournemouth
Wedding Flower Specialists, Funeral and Sympathy Flowers.
166 Charminster Road, Bournemouth, Dorset BH8 8UX
Phone: 01202 531532
Fresh and Fruity – Gillingham
Beautiful Bouquets, Funeral tributes, Weddings, Occasions, House and Garden Plants, Fresh Fruit Baskets.
2 High Street, Gillingham, Dorset SP8 4AB
Phone: 01747 228062
Fresh Floral Design – Bournemouth
Flower Delivery, Wedding Flowers, Funeral Flowers, Corporate and Event Flowers, Birthdays and Anniversaries, Bouquets.
55 Commercial Road, Bournemouth, BH2 5RH
Phone: 01202 553341
House of Flowers – Lyme Regis
Hand - Crafted Designs Same Day Delivery, National Delivery and International Delivery
18, Woodmead Road, Lyme Regis, Dorset DT7 3AD
Phone: 01297 444743
Island Florist - Portland
Unit 17, Easton Shopping Centre, Portland, Dorset DT5 1BX
Phone: 01305 860180
Just Add Flowers – Wimborne
Hand-Tied and Aqua Pack Bouquets, Funeral and Sympathy Flowers, Wedding Flower Specialists.
147b Wareham Road, Wimborne, Dorset BH21 3LA
Phone: 01202 699557
Kinson Florist - Bournemouth
1530 Wimborne Road, Bournemouth, Dorset BH11 9AF
Phone: 01202 572692
Krp Pet Supplies – Dorchester
Bouquets For All occasions- Weddings, Displays and Funerals
7 Grosvenor Crescent, Dorchester, Dorset DT1 2BA
Phone: 07725 442491
Lansdowne Florists – Bournemouth
Interflora Florists, Quality Flowers for Same Day And Express Delivery, Dynamic And Contemporary, Weddings, Funerals.
17-19 Holdenhurst Road, Bournemouth, Dorset BH8 8EH
Phone: 01202 230922
Lavender Blue - Flowersdirect – Bridport
Fabulous Flowers Delivered, Premium Hampers and Luxury Gifts, Local National and International Flower delivery
1 Lilliput Lane, Bridport, Dorset DT6 3XD
Phone: 0800 975 9940
Occasions Florist – Sherborne
Weddings and Funeral Flowers, Flowers and Floral Gifts, Hand Tied Bouquets, Flowers for Anniversaries and Corporate Functions, Candles and Balloons.
43 Cheap Street, Sherborne, Dorset DT9 3PU
Phone: 01935 814308
Parkwood Style Limited – Poole
Local National and International, Secure Online Ordering, Interflora Florists, Wedding Specialists, Corporate and Business Events, Funeral and Sympathy Flowers.
335, Ashley Road, Poole, Dorset BH14 0AP
Phone: 01202 717700
Pebble Beach Florists - Portland
21 Easton Street, Portland, Dorset DT5 1BS
Phone: 01305 823125
Pogles Wood Florist - Weymouth
9 Preston Road, Weymouth, Dorset DT3 6PU
Phone: 01305 834834
Poundbury Florist – Dorchester
2, Lydgate Street, Dorchester, DT1 3SJ
Phone: 01305 268878
Simonis Florists Limited – Bournemouth
Interflora Florist selling Quality Flowers, also Balloons, Teddies and Chocolates, Quality Flowers, Weddings and Funerals, Local Deliveries, Silk Flowers, Large Range.
10 Sea Road, Bournemouth, Dorset BH5 1DB
Phone: 01202 394363
Talbot Florists - Poole
291, Wallisdown Road, Poole, Dorset BH12 5BT
Phone: 01202 523931
The Bay Tree Florist – Poole
Traditional and Exotic Flowers and Bouquets For Birthdays and Anniversaries, Sympathy and Hospital Flowers, Funeral Tribute, Wedding Flowers
39 Church Road, Poole, Dorset BH14 8UF
Phone: 01202 744998
The Corn Store Florist Poole
16 Waldren Close, Poole, Dorset BH15 1XS
Phone: 01202 667976
The Flower Room – Bournemouth
Flowers For All Occasions.
18 Wimborne Road, Bournemouth, Dorset BH9 2EX
Phone: 01202 529077
Vines Close Farm Florists - Wimborne
Vines Close Farm, Dorchester Road, Wimborne,
Dorset BH21 3RW Phone: 01258 857909
Woodland Florist - Ferndown
1, Pennys Walk, Ferndown, Dorset BH22 9TH
Phone: 01202 890999
GARDENING ADVICE ARTICLES ON GARDEN GROWER
Floristry, Flower shops and Florists in Dorset selling Flower Arrangements and freshly cut flowers ,flower posies and Floral Gifts, Florist shops in Dorset Funeral flowers and Wedding Bouquets - Cut Flowers and Bouquets Delivered in all areas of Dorset