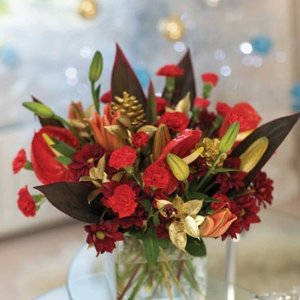 Florists in Bedfordshire - Flower Shops, and Flower Deliveries in Bedfordshire.
Floristry is the production and trading in cut flowers. It includes all the different aspects of floral design,flower arranging flower care, and floral design.
When choosing the flowers that you want to send on a special occasion consider the symbolism represented by your flower choice.
During Queen Victoria's reign people would select flowers to send that symbolised a particular sentiment or sentiments. For example - Red Roses were chosen to symbolise love and these are still a very popular choice of flower for romantic gift , Hollyhocks stood for ambition, Campanula for gratitude, Orchids symbolised grace and beautythe Forget-me-not represented true love!
Autumn Blossom Florists - Bedford
7 Mill Road, Bedford, Bedfordshire MK43 0JG
Phone: 01234 757878
Adrienne's – Leighton Buzzard
Specialists In Hanging Baskets and Planted Gifts. We Also Provide All Floristry Services, Including Funerals and Wedding. 26 Birds Hill, Leighton Buzzard, Bedfordshire LU7 0AQ
Phone: 01525 237939
April Flowers – Bedford
Bedfordfordshire flower deliveries, Funeral flowers, Bouquets, Hand tieds, Interflora, Wedding flowers, Range Of Gifts,Plants,Balloons.
90 High Street, Bedford, Bedfordshire MK41 6BW
Phone: 01234 863807
Bedfordshire Balloons – Bedford
Fresh Flowers Daily, Wedding And Funeral Specialist, Bouquets, Hand-Ties flowers and posies, Plants and Balloons, Gifts, Local and National Delivery.
158 Castle Road, Bedford, Bedfordshire MK40 3SN
Phone: 01234 325224
Blossoms – Leighton Buzzard
Funeral Flowers, Fresh Flowers Always, Quality Service Style and Value, Unique, Contemporary Designs, Wedding Flowers, Fabulous Flowers Delivered.
19 Chiltern Gardens, Leighton Buzzard, Bedfordshire LU7 3BL
Phone: 01525 377049
Cathy's Bloomers - Shefford
Unit 1, Rear Of 44 High Street, Shefford,
Bedfordshire SG17 5DG Phone: 01462 811097
Cottage Garden Flower Shop – Dunstable
Same Day Flower Delivery, Fresh Flowers Daily, Members Of Interflora, Funeral Flower Specialists, Chocolates, Balloons
160 Chiltern Road, Dunstable, Bedfordshire LU6 1EU
Phone: 01582 342143
Cottage Garden Florist - Bedford
95 High Street, Bedford, Bedfordshire MK42 7BS
Phone: 01234 851975
Cherry Bees Florist - Bedford
Unit 11, Old Watermill, Faldo Road, Bedford,
Bedfordshire MK45 4RF Phone: 07710 344677
Daisies Designer Florist - Dunstable
4 Hillborough Crescent, Dunstable, Bedfordshire LU5 5NS
Phone: 01582 868742
Ducasse Hair and Beauty – Bedford
Modern and Traditional Creations, Bouquets and Baskets, Hand Tied and Aqua Packs, Bespoke Weddings and Funerals, Delivery Svce, Gift Ware Range, Over 40 Yrs Floral Experience.
The Olde Watermill Shopping Village, Faldo Road, Bedford, Bedfordshire MK45 4RF Phone: 07710 344677
Fleurette – Bedford
Bespoke Designed Fresh Flowers, Wedding Arrangements, Interflora Premier Florist, Funeral Tributes, Corporate Contracts and Events, Gifts and Chocolates.
65 Harpur Street, Bedford, Bedfordshire MK40 2SR
Phone: 01234 864743
Flourish - Dunstable
60 Great Northern Road, Dunstable, Bedfordshire LU5 4BT
Phone: 07814 303629
Flower Maiden - Bedford
24 Bedford Road, Bedford, Bedfordshire MK45 4PP
Phone: 01582 883999
Fox's of Luton – Luton
Weddings and Funerals, Bouquets and Baskets, Balloons and Gifts, Chocolates, Hampers, Worldwide Delivery
268, Leagrave Road, Luton, Bedfordshire LU3 1RB
Phone: 01582 493003
Flowers by Design - Henlow
31 High Street, Henlow, Bedfordshire SG16 6AA
Phone: 01462 811341
Gingerlily Flowers – Leighton Buzzard
Hand Ties For All Occasions, Same Day Delivery, Weddings/Special Event Florist, Unique, Contemporary Designs, Funeral / Sympathy Tributes, Corporate Contracts.
29 Soulbury Road, Leighton Buzzard, Bedfordshire LU7 2RW
Phone: 01525 302563
Greycourt Florists - Bedford
134 Bedford Road, Bedford, Bedfordshire MK42 8BH
Phone: 01234 851230
Hello Flower – Arlesey
Contemporary and Traditional, Weddings and Special Occasions, Corporate Events and Displays, Funerals and Sympathy, Birthdays Or Just Because, Same Day Deliver.
66 Hitchin Road, Arlesey, Bedforshire SG15 6SA
Phone: 01462 621507
Harpur Centre Florists - Bedford
The Entrance, Harpur Centre, Bedford, Bedfordshire MK40 1TQ
Phone: 01234 343636
Irene Parkins Florist - Bedford
77 Ford End Road, Bedford, Bedfordshire MK40 4JT
Phone: 01234 267174
Ivy House Floral Designs – Luton
Traditional and Contemporary, Weddings and All Occasions, Bouquets, Hand-Tieds and Basket, Funeral Tributes, Same Day 1 - 3 Hour Deliveries, Quality Service Style and Value.
89 Icknield Way, Luton, Bedfordshire LU3 2BU
Phone: 01582 490500
Jacaranda Florist - Henlow
46 Clifton Road, Henlow, Bedfordshire SG16 6BL
Phone: 01462 814955
Jeans of Luton – Luton
Interflora Florist International Flower Delivery of Flowers Chocolates, Teddies, Balloon Bouquets, Luxury Gifts.
25 George Street, Luton, Bedfordshire LU1 2AF
Phone: 01582 414446
Jonquil Florist - Dunstable
56 West Street, Dunstable, Bedfordshire LU6 1TA
Phone: 01582 602048
Lavenders Florists - Bedford
5 Pemberley Lane, Bedford, Bedfordshire MK40 2PJ
Phone: 01234 360170
Le Flower Boutique – Bedford
Wedding Flowers, Bouquets, Funeral and Sympathy Flowers, Birthdays, Anniversaries, Bomboniere, Wedding, Christening, Holy Communion, Favours, Dresses, Veils.
17 Ampthill Road, Bedford, Bedfordshire MK42 9JP
Phone: 01234 347581
Skipps Florist – Biggleswade
Hand-Crafted Floral Designs, Same Day Delivery, National and International Delivery.
95 High Street, Biggleswade, Bedfordshire SG18 0LA
Phone: 01767 313166
Sullivans Florist – Luton
Flowers For All Occasions, Beautiful Fresh Flowers, For Something Extra Special, Weddings, Funerals.
210, Marsh Road, Luton, Bedfordshire LU3 2QW
Phone: 01582 503277
Silver Birch Florist - Luton
733 Dunstable Road, Luton, Bedfordshire LU4 0DU
Phone: 01582 528056
Simmons Florist - Bedford
174 High Street, Bedford, Bedfordshire MK42 9YA
Phone: 01234 266947
S.G Willis and Sons Limited – Leighton Buzzard
Bouquets and Arrangements, Baskets and Hand Ties - Quality Fresh Flowers Only, Chocolate, Balloons, Interflora Member.
23 Market Square, Leighton Buzzard, Bedfordshire LU7 1EU
Phone: 01525 301053
The Flower Shop – Biggleswade
Friendly Interflora Florist, Same Day Delivery, All Major Credit Cards Taken, Weddings Funerals Celebration, Local, National, Worldwide, Quality Flowers
28 High Street, Biggleswade, Bedfordshire SG18 0JL
Phone: 01767 600365
The Flower House - Bedford
112 Bedford Road, Bedford, Bedfordshire MK43 0LD
Phone: 01234 768586
The Flower Room Limited - Sandy
Bouquets, Aquas, Hand Ties, Helium Balloons, Funerals, Weddings and Corporate, Eflorist, Tiaras and Jewellery.
27 Market Square, Sandy, Bedfordshire SG19 1JA
Phone: 01767 375005
The Flower Girls - Luton
12 Moxes Wood, Luton, Bedfordshire LU3 3NB
Phone: 07792 895595
Tufty Flowers and Cards – Luton
International, Local, National, Same Day Deliveries, Balloon Decorations, Flowers Simple To Wonderful, Weddings, Funerals, Birthdays, Major Credit Cards Accepted.
13 Eaton Green Road, Luton, Bedfordshire LU2 9HE
Phone: 01582 968223
Toddington Florist - Dunstable
62 High Street, Dunstable, Bedfordshire LU5 6BY
Phone: 01525 872245
Unique - Sandy
8 The Finches, Sandy, Bedfordshire , SG19 2UL
Phone: 01767 680485
Wild Orchid – Leighton Buzzard
67 North Street, Leighton Buzzard, Bedfordshire LU7 1EQ
Phone: 01525 218082
GARDENING ADVICE ARTICLES ON GARDEN GROWER
Avon | Bedfordshire | Cheshire | Cornwall | Cumbria | Derbyshire | Devon | Dorset | East Sussex | Essex | Hampshire | Herefordshire | Hertfordshire | Isle of Wight | Kent | Lancashire | Leicestershire | Lincolnshire | Middlesex | Norfolk | Nottinghamshire | Oxfordshire | Shropshire | Somerset | Suffolk | Surrey | West Midlands | West Sussex | Wiltshire | Yorkshire
Floristry, Flower shops and Florists in Bedfordshire selling Flower Arrangements and freshly cut flowers ,flower posies and Floral Gifts, Florist shops in Bedfordshire Funeral flowers and Wedding Bouquets - Cut Flowers and Bouquets Delivered in all areas of Bedfordshire