HYPERICUM REPTANS - ST JOHN'S WORT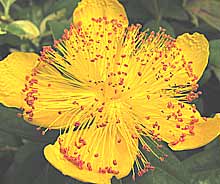 Hypericum Reptans (St John's Wort) is a lovely carpetting ground cover plant for the garden from the temperate region of Sikkim in the Himalayas.
With its very slender red stems and dark green leaves this variety of hypericum weaves a fine network, covering in the course of a season or two a square yard and can create delightful effect spread over the face of a large rock or boulder .
Hypericum Reptans grows to a height of 2 to 12 inches.
EVERGREEN LEAVES AND GOLDEN FLOWERS
The evergreen leaves of Hypericum Reptans, oval and thin in texture, are many, affording the plant a pleasing density of foliage, this. during autumn and winter being lightly flecked with orange and red.
The golden yellow flowers of Hypericum borne in summer and singularly large for so lowly a plant, are short stemmed - "like dog-roses of electric gold, and on the outside their buds are varnished with a burnished mahogany crimson, most strange and brilliant among the unfolded pale gleam of the flowers." (Farrer.)
WHERE TO PLANT
Hypericum Reptans is hardy enough for most places, but the soil must be free and gritty.
The plant will probably over winter more safely if provided with a slight slope over which to spread its verdant veil. An, an elevated position should be chosen, so that the faces of the hypericum flowers, held horizontally, may be open to view.
There are growers in hotter climates who find light shade desirable for hypericum reptans, but full exposure to sun will probably suit it best in most gardens.
All the lesser hypericums are invaluable for prolonging the season of colour in the rock garden, and this one, in habit, foliage and flower, is unique among them.
PROPAGATING HYPERICUM REPTANS
Seed of hypericum reptans is produced in plenty and this affords a ready means of increasing your stock.
Cuttings made in August strike easily in sandy soil in a cold frame - this is a much quicker method of propagation.