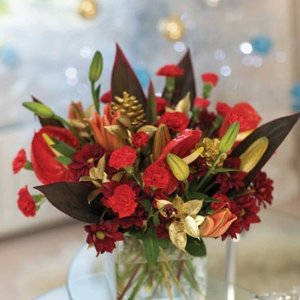 Florists in Middlesex - Flower Shops, Floristry Flower and Flower Deliveries in Middlesex.
Fresh cut flowers and floral arrangements have been used in special occasions for thousands of years - during ancient times the Egyptians used flowers in their celebrations, dried flowers have been found in the pyramids!
When you are choosing flowers to send to a special person consider the message that is being conveyed - different flowers have different symbolic meanings. During the reign of Queen Victoria it was popular to send flowers that represented a sentiment. For example - Orchids symbolised refined beauty, Elderflower compassion, Red Roses symbolised love, Freesias trust and the Iris represented passion!
Ashford Flowers by Sonia - Ashford
10 Church Road, Ashford, Middlesex TW15 2UT
Phone: 01784 241611
Bluebells – Northwood
Weddings and Events, Gifts For All Occasions, Corporate Design, Floral Arrangements and Bouquets, Funeral Designs, Fresh From Holland.
Unit A, High Street, Northwood, Middlesex HA6 1BN
Phone: 01923 841770
Blooming Amazing Florist - Harrow
4 Retreat Close, Harrow, Middlesex HA3 0JQ
Phone: 020 8907 0530
Bluebells Florists - Ruislip
40, Cottingham Chase, Ruislip, Middlesex HA4 0BZ
Phone: 01895 636714
Buds Florists - Teddington
1 Station Road, Teddington, Middlesex TW11 9AA
Phone: 020 8547 0080
C Vallis Florist - Wembley
Unit 29-33 Plaza Parade, Ealing Road, Wembley,
Middlesex HA0 4YA Phone: 020 8903 0888
Changing Blooms – Ashford
Free Local Delivery Service, Beautiful Hand Tied Bouquets, Weddings All Special Occasion, Parties/Balloon Decoration,Funeral Tributes, Sympathy, Fruit Baskets, Balloons.
7 Ashview Gardens, Ashford, Middlesex TW15 3RE
Phone: 01784 257902
Eva's Florist - Feltham
158a Hounslow Road, Feltham, Middlesex TW13 6AA
Phone: 020 8898 8579
Flowernest – Harrow
Quality Flowers Guaranteed, Interflora Florist, 3Hr, Same Day Delivery, International Flower Delivery, Chocolates, Teddies, Balloon Bouquets, Luxury Gifts.
149 Greenford Road, Harrow, Middlesex HA1 3QN
Phone: 0208 422 7890
Flowers By Georgina – Ashford
Free Local Delivery, Interflora Member, Flowers For All Occasions, Corporate Contracts, Weddings, Funerals, Birthdays, Cards, Balloons and Gifts.
21, Church Road, Ashford, Middlesex TW15 2UG
Phone: 01784 771898
Flowerworks – Uxbridge
National and International, Flowers for Weddings and Funeral, Cuddly Toys and Balloons, Corporate Accounts Welcome, Hand Tied Bouquets, Contemporary Designs.
15, Windsor Street, Uxbridge, Middlesex UB8 1AB
Phone: 01895 541590
Floral Art By Natalie – Harrow
Local and National Delivery, Flowers, Gifts - All Occasions, Bouquets, Hand Ties, Aqua Pack, Dried and Silk Arrangements, Funerals and Weddings Specialist, Same Day Delivery.
South Harrow Market, Northolt Road, Harrow,
Middlesex HA2 0EU Phone: 020 8426 4427
Flower House (UK) Limited – Harrow
Interflora Agent, Same Day Deliveries Nationwide, International Deliveries, Wedding, Anniversary, Birth, Birthday, Balloons, Chocolate, Teddy Bear.
427, High Road, Harrow, Middlesex HA3 6EJ
Phone: 020 8863 3340
Flower-Site (Flowers By Shifa) – Hayes
Flowers For All Occasions, Local - National – Worldwide, Quality Fresh Cut Flowers, Corporate Specialists, Weddings Funerals and Anniversary flowers.
7 Northfield Parade, Station Road, Hayes, Middlesex UB3 4JA
Phone: 020 8756 0239
Funky Flowers – West Drayton
Flowers For All Occasions, Free Local Delivery, Wedding Packages, Designer Funeral Packages
4 Mulberry Parade, West Drayton, Middlesex UB7 9AE
Phone: 01895 541192
Heston Florist – Hounslow
Hand-Crafted Designs, Quality Guaranteed, Same Day Delivery, National and International Delivery.
11 Central Parade, New Heston Road, Hounslow,
Middlesex TW5 0LQ Phone: 020 8570 0557
Home Florist – Isleworth
Free Local Deliveries, Flowers For Events, Birthdays, Funerals, Weddings, Teddies / Helium Balloons, Hand Tied Bouquets, Deliveries 7 Days A Week.
59 Crane Avenue, Isleworth, Middlesex TW7 7JR
Phone: 020 8892 7014
Lancaster Florist - Enfield
551 Hertford Road, Enfield, Middlesex EN3 5UQ
Phone: 020 8804 1560
Lynda's Florist - Enfield
14 Southbury Road, Enfield, Middlesex EN1 1YT
Phone: 020 8363 2680
Mansi Florists Limited - Pinner
3 Pinner Green, Pinner, Middlesex HA5 2AF
Phone: 020 8868 2798
Paula's Petals Florist – Enfield
Award Winning Designer Florist, Specialist In Funeral Tributes, Established 25 years, Flowers For All Occasion, E Florist, Major Credit Cards Accepted.
120b Lavender Hill, Enfield, Middlesex EN2 0QU
Phone: 0208 363 4874
Roberts and Company – Staines
Interflora Member, Modern and Traditional Styles, Highly Skilled Florists, Professional, Friendly Service, Corporate, Functions, Contract, Quality Flowers and Bouquets.
3 Stainash Parade, Kingston Road, Staines,
Middlesex TW18 1BB Phone: 01784 452092
Sekret Garden – Enfield
Wedding Specialists, Christenings, Corporate Events, Funeral Tributes, Balloon Experts, All Occasions Catered For
346 Baker Street, Enfield, Middlesex EN1 3LQ
Phone: 020 8367 5867
Sunflower Florists - Southall
67 Woodlands Road, Southall, Middlesex UB1 1EJ
Phone: 07949 970667
Snowdrops Of Stanwell – Staines
Flowers For All Occasions, Wedding and Funeral Flowers, Corporate Accounts, Same Day Delivery, Local, National, International, All Major Credit Cards.
48a High Street, Staines, Middlesex TW19 7JS
Phone: 01784 255 551
Stargazers Flowers - Isleworth
23b St. Johns Road, Isleworth, Middlesex TW7 6NB
Phone: 020 8569 8955
Streets Florist - Twickenham
125 St Margarets Road, Twickenham, Middlesex TW1 1RG
Phone: 020 8892 1951
The Airport Florist – Feltham
Quality Hand - Crafted Designs. Same Day Delivery, National and International Delivery.
501 Staines Road, Feltham, Middlesex TW14 8BN
Phone: 020 8890 2130
Van Wonderen Flowers – Sunbury-On-Thames
Same Day Delivery, Funerals, Weddings, Gifts, Belgian Chocolates, Helium Balloons, Soft Toys.
10 The Avenue Parade, Lower Sunbury, Sunbury-On-Thames, Middlesex TW16 5HS Phone: 01932 761071
Zoe's Flowers – Hayes
Interflora Florist, Quality Flowers Same and Next Day Delivery and International Flower Delivery of Bouquets and Luxury Gifts. 240, Kingshill Avenue, Hayes, Middlesex UB4 8BZ
Phone: 020 8841 7623
GARDENING ADVICE ARTICLES ON GARDEN GROWER
Avon | Bedfordshire | Cheshire | Cornwall | Cumbria | Derbyshire | Devon | Dorset | East Sussex | Essex | Hampshire | Herefordshire | Hertfordshire | Isle of Wight | Kent | Lancashire | Leicestershire | Lincolnshire | Middlesex | Norfolk | Nottinghamshire | Oxfordshire | Shropshire | Somerset | Suffolk | Surrey | West Midlands | West Sussex | Wiltshire | Yorkshire
Floristry, Florists and Flower shops in Middlesex selling Flower Arrangements and freshly cut flowers ,flower posies and Floral Gifts, Florist shops in Middlesex Funeral flowers and Wedding Bouquets - Flowers Delivered in all areas of Middlesex