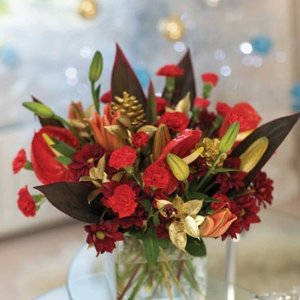 Florists in Essex - Flower Shops, and Flower Deliveries in Essex.
Floristry is the term used to describe the production and trade in cut flowers. It includes all aspects of flower care, flower arranging and floral design. Retail florists sell fresh flowers, arrangements and related products and gifts such as ballons and most deliver these for their customers.
When choosing flowers to send on a special occasion consider the message that is being conveyed by the flowers that you choose - flowers have been given symbolic meanings over the ages! During the reign of Queen Victoria people would send flowers that were selected to symbolise a sentiment. For example - Red Roses would symbolise love and these are still a popular choice as a romantic gift , Orchids represented refined beauty, Hollyhock ambition, Freesias innocence and the Forget-me-not symbolised true love!
A and B And Kenneth Orrin – Chelmsford
Interflora Member, Same Day Del Local and National, Wedding and Funeral Flowers, Balloon Decor and Delivery, Chelmsfords Oldest Florist.
2 Salmon Parade, New Street, Chelmsford, Essex CM1 1PR
Phone: 01245 201994
Belgravia Florist Limited – Benfleet
Large range of fresh flowers, Wedding and function specialist, Funeral flowers, Bespoke bouquets, Local and National deliveries - Flower School.
188-190, High Road, South Benfleet, Benfleet, Essex SS7 5LD
Phone: 01268 201731
Beautiful Blooms – Colchester
Traditional and Modern Floral Designs, Wedding and Corporate Specialist, Funeral Tributes, Same Day and Worldwide Delivery
4 Scheregate Steps, Colchester, Essex CO2 7AS
Phone: 01206 562591
Blooming Girls – Colchester
Top Quality Cut Flowers, Hand-Tied Bouquets, Sympathy Tributes, Floral Design and Corporate, Weddings and Events, Seasonal Arrangements.
26, High Street, Colchester, Essex CO6 2PA
Phone: 01787 221936
Blooms 4 Hire – Basildon
Corporate and Contract Hire, Quality Artificial Flowers, Collection and Delivery, Private Work, Weddings, Superior Quality Designs.
266 Noak Hill Road, Basildon, Essex SS15 4DE
Phone: 07807 885933
Blue Bee Exquisite Flowers – Billericay
Best Quality Flowers, For All Occasions, Wedding Flowers and Funerals, Deliveries All Over Essex Corporate Contracts
1 Shereday's Courtyard, 22 High Street, Billericay,
Essex CM12 9BQ Phone: 01277 656558
Bodsworth Flowers – Manningtree
Flowers For All Occasions, Weddings, Sympathy and Tributes, Floral Gifts and Balloons, Same Day Delivery, Local, National and Worldwide,Credit Cards Accepted.
47 Harwich Road, Manningtree, Essex CO11 2LS
Phone: 01206 230821
Butterfly Flowers – Clacton-On-Sea
Weddings and Funeral Bouquets, Balloons, Silk and Fresh Arrangements, Hand Tied Bouquets, Same Day Deliveries
6 Mansion House Precinct, North Road, Clacton-On-Sea,
Essex CO15 4DA Phone: 01255 424393
Brians Florist – Grays
Flowers For All Occasions, Interflora - Same Day Delivery, Delivery Worldwide Available, Major Credit Cards Accepted, Weddings Funerals Bouquets.
2c High Street, Grays, Essex RM17 6LU
Phone: 01375 378767
Brown's Blooms and Balloons – Witham
Wedding Flowers, Themed Parties, Function and Conference Décor, Sympathy Tributes, Birthday Parties.
8 Wellands, Witham, Essex CM8 3NF Phone: 01621 892315
Chris Evans Florist – Brentwood
Free Delivery In Shenfield, See Website For Delivery Areas, Hand Tied Bouquets, Flower Arrangements, Funeral Tributes, Collection Service From Shop.
72-74 Hutton Road, Brentwood, Essex CM15 8NB
Phone: 01277 282029
Dilly at Abbotts Florist – Colchester
Bespoke Wedding Flowers and Fresh Cut Flowers, Corporate Events Contract Work, Hampers, Local and International Delivery, Same Day Delivery.
25, Crouch Street, Colchester, Essex CO3 3EN
Phone: 01206 573222
Floral Fancies – Benfleet
Same Day Delivery, Fresh and Silk Flowers, All Occasions, Helium Balloons and Teddies, Friendly Professional Service, Weddings, Birthdays, New Baby.
359 High Road, Benfleet, Essex SS7 5HW
Phone: 01268 756299
Flowers by Karen – Ilford
Bouquets and Hand Ties, Corporate Work, Chuppah Decorating, Silk and Dried Flowers and Plants Wedding and Funeral Flowers.
787 Cranbrook Road, Ilford, Essex IG6 1HT
Phone: 0208 551 7665
Floral Expressions – Witham
Catering For Any Occasion, Functions Parties Weddings, Funerals Birthdays Christening, Bespoke To Your Requirements, Homemade Local Produce, Pig Roasts, Hog Roasts.
Olivers Nurseries, Maldon Road, Witham, Essex CM8 3HY
Phone: 01376 310635
Flowers By Anne Goldschmidt – Colchester
Bespoke Wedding Flowers, Function And Party Flowers, Sympathy Flowers, Gift Bouquets, Modern and Traditional Bouquets, Awarded Master Florist.
Unit 12, Block D, Cowdray Centre, Cowdray Avenue, Colchester, Essex CO1 1BW Phone: 01206 618521
Flowergirl Florist – Romford
Funeral Specialists, International Delivery, Varied Flower Stock
176 Hilldene Avenue, Romford, Essex RM3 8DB
Phone: 01708 343811
Inflower Again – Colchester
Weddings and Funeral Flowers, Birthdays and Anniversaries, Local and National Deliveries, Special Occasions, Bouquets, Corporate Events, All Major Credit Cards.
7 St Botolphs Street, Colchester, Essex CO2 7DU
Phone: 01206 570123
Jeanettes Florists – Basildon
Exquisite Florists, Contemporary and Traditional, Creative Weddings, Funeral Tributes, Teleflorist Same Day Delivery.
59, High Road, Basildon, Essex SS13 3BB
Phone: 01268 581002
Joy Flowers – Harlow
Hand Tied Bouquets, Floral Tributes, Wedding Specialists, Corporate Accounts, Range Of Plants and Hampers, Fresh and Artificial Designs.
7, North House Bush Fair, Harlow, Essex CM18 6PA
Phone: 01279 454 115
Mansion Hose Florists – Clacton-On-Sea
82 Kings Avenue, Clacton-on-Sea, Essex CO15 5EP
Phone: 01255 815995
Pearl's Florist – Romford
Bouquets and Arrangements, Stunning Wedding Flowers, All Corporate Floristry, Flowers For All Occasions, Balloons and Decorations, Funeral Tributes.
32 London Road, Romford, Essex RM7 9RB
Phone: 01708 200830
Petals and Plants – Stanford-Le-Hope
Same Day Delivery Service, Weddings, Funerals, Balloons and Gifts, Bouquets, Corporate Events, Interflora, Fresh Arrangements and Plants
8 St Johns Way, Stanford-Le-Hope, Essex SS17 7LJ
Phone: 01375 360032
Rosemarie – Colchester
Flowers For Weddings, Flowers For Funerals, Flowers For Gifts, Birthdays and Anniversaries, Flowers For Births, Any Occasion.
12, Station Road, Colchester, Essex CO11 1AA
Phone: 01206 396851
Sue's Flowers – Harlow
Wedding Flowers and Car Hire, Funeral Flowers, Flowers For All Occasions - Deliveries Within 15 Miles.
Bonnies Oak Nursery, Water Lane, Harlow, Essex CM19 5DR
Phone: 01279 211525
Springfield Florist – Chelmsford
Bouquets, Hand Ties and Gifts, Wedding Flowers, Traditional and Exotic Flowers, Local and Worldwide Delivery, Funeral Designs, All Major Credit and Debit Cards.
64-65, Moulsham Street, Chelmsford, Essex CM2 0JA
Phone: 01245 203 877
Talking Flowers – Maldon
Deliveries Local and Nationwide, International Deliveries, Contemporary and Traditional, Weddings and Funerals, Belgian Chocolates, Fresh, Silk and Dried Flowers.
37 High Street, Maldon, Essex CM9 5PF
Phone: 01621 853500
The Black Peony - Halstead
The Limes, 100 Swan Street, Halstead, Essex CO9 3HP
Phone: 01787 469261
Twiggy's Florist – Colchester
9 High Street, Colchester, Essex CO7 0AE
Phone: 01206 304033
Venus in Flowers – Epping
Valentines and Mothers Day, Wedding Specialists, Funeral Flowers, Corporate Flowers, Bouquets, Gifts
Coppice Row, Epping, Essex CM16 7EU
Phone: 01992 813106
W.E. Haynes – Rochford
Interflora Florist, Quality Flowers Guaranteed, 3 Hour, Same and Next Day Delivery, International Flower Delivery, Balloon Bouquets, Luxury Gifts.
75 West Street, Rochford, Essex SS4 1AX
Phone: 01702 544144
GARDENING ADVICE ARTICLES ON GARDEN GROWER