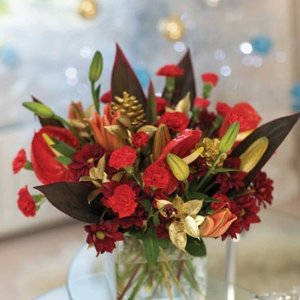 Florists in Nottinghamshire - Flower Shops, and Home Flower Deliveries in Nottinghamshire.
Everyone loves to receive a bouquet of flowers. Flowers make you feel special and show that someone cares about you – bouquets of flowers are also the mainstay of the high street florist!
Although you can buy a bouquet from a supermarket or garage - what will set your bunch of flowers apart from theirs is the variety of flowersthat have been used and the care taken in creating and storing that special bouquet.
Anderson's - Nottingham
10 King Street, Nottingham, Nottinghamshire NG1 2AS
Phone: 0115 941 2612
Angels Florist - Eastwood
94 Nottingham Road, Eastwood, Nottingham,
Nottinghamshire NG16 3NP Phone: 01773 770293
Blooming Gems - Nottingham
210 Derby Road, Nottingham, NG9 7AY
Phone: 0115 939 5888
Buttercups and Daisies Florist - Nottingham
11 Wren Court, Nottingham, Nottinghamshire NG10 3AG
Phone: 07813 320864
Eastwood Florist – Nottingham
Weddings and Funeral Flowers, Hand Tied Bouquets, Baskets, Speciality in Fruit Baskets, Gifts, Teddy Bears, Same Day Delivery Service, National and Local Delivery.
24 Dovecote Road, Nottingham, Nottinghamshire NG16 3EZ
Phone: 01773 713459
Fleurtations – Nottingham
Acclaimed Nottingham Florist, Hand Tied Bouquets From £15, Traditional/Exotic/Modern, Over 6000 Cards/Balloons/Gifts, Wedding and Funeral Flowers
301-303 Westdale Lane, Nottingham,
Nottinghamshire NG3 6EW Phone: 0115 822 6018
Flower Craft - Nottingham
Beautiful Bouquets Delivered to Your Door, Hand Ties and Aquapacks, Balloons and Russ Berrie Bears, Wedding Flowers, Funeral Tributes by Design, Florist in Aspley.
373 Aspley Lane, Nottingham, Nottinghamshire NG8 5RR
Phone: 0115 929 9207
Flowers For All Occasions – Nottingham
Hand - Crafted Designs Same Day Delivery, National and International Delivery.
62 Main Road, Nottingham, Nottinghamshire NG4 3HL
Phone: 01159 611106
Flowers For All Occasions Of Gedling – Nottingham
Local National International, Exotic Modern Traditional, Bouquets Hand Tied Baskets, Weddings Funerals Tributes, Teddies Balloons Chocolates, Interflora Same Day Service.
62 Main Road, Nottingham, Nottinghamshire NG4 3HL
Phone: 0115 9611106
Flower Scene – Nottingham
Unique 3 Hour Delivery, Hand Crafted Designs, Quality Guaranteed, Same Day Delivery, National Delivery, International Delivery.
22, Gordon Road, Nottingham, Nottinghamshire NG2 5LN
Phone: 0115 981 6920
Goldsmith Flowers - Mansfield
Same Day/Any Day Delivery, Flowers For All Occasions, Wedding and Funeral Specialist, National and Worldwide Delivery, Gifts, For Him and Her.
4 Toothill Lane, Mansfield, Nottinghamshire NG18 1NJ
Phone: 01623 701168
Greenfingers - Flowersdirect – Nottingham
Fabulous Flowers Delivered, Premium Hampers and Luxury Gifts, Local National International
167 High Road, Nottingham, Nottinghamshire NG9 5BA
Phone: 0800 975 9940
Hilltop Florist (Barretts) – Nottingham
Same Day Delivery Service, Hand Tied Bouquets and Baskets, Wedding and Funeral Flowers, Fruit Baskets and Hampers, Teddy Bears And Cards
24 Dovecote Road, Nottingham, Nottinghamshire NG16 3EZ
Phone: 01773 713459
Kerry's Florist – Nottingham
Flowers For All Occasions, Hand - Tied, Baskets, Bouquets, Bespoke Wedding Flowers, Funeral Tributes
39 Watnall Road, Nottingham, Nottinghamshire NG15 7LD
Phone: 0115 963 4210
Nene's Flowers – Nottingham
Teleflorist Worldwide Delivery, Weddings, Funerals, Giftware, Modern and Exotic Flowers, Corporate Floral Displays
80a Front Street, Nottingham, Nottinghamshire NG5 7EJ
Phone: 0115 967 0928
Petals Florist - Retford
41, Bridgegate, Retford, Nottinghamshire DN22 7UX
Phone: 01777 704968
Petals and Plantstyle – Mansfield
Quality Products, Same Day Service, Funeral Tributes, Corporate Work, Weddings, International Relay.
We serve Nottinghamshire Mansfield, NG21
Phone: 01623 798 473
Roma Flowers – Nottingham
Traditional and ContemparyDesign, Wedding Flowers and Funeral Tributes, Hand Tied and Gift Wrap Flowers, Plants For The House and Garden, Delivery Available.
95 High Road, Nottingham, Nottinghamshire NG9 2LE
Phone: 01159 220228
Slades Of -West Bridgford
Same Day Delivery, Weddings, Birthdays, Anniversaries, Funerals, Bouquets, Hand – Tied
79 Melton Road, Nottingham, Nottinghamshire NG2 6EN
Phone: 01159 813153
The Flower Stop – Mansfield
Same Day Delivery, Local, National, Worldwide, Weddings, Funerals, Corporate, Flowers For All Occasions, Exotic Flowers Available, Plants, Gifts and Balloons.
Shop 1, Pecks Hill, Mansfield, Nottinghamshire NG18 2NS
Phone: 01623 702082
The Fruit Bowl – Nottingham
Interflora Florist - International Flower Delivery. Chocolates, Teddies, Balloon Bouquets, Luxury Gifts.
84-86 Station Street, Nottinghamshire NG17 7AP
Phone: 01623 752120
The Rose Bower – Nottingham
We Create Beautiful, Traditional Or Contemporary Flowers For Every Occasion. With A Same day Delivery Service Nationwide. Chocolates Available.
182 Outram Street, Nottinghamshire NG17 4FW
Phone: 01623 702735
Welch the Florist Limited – Nottingham
Interflora Florist Established 1920.
37 Market Place, Nottingham, Nottinghamshire NG10 1JL
Phone: 0115 973 7884 / 01332 898638
Welch the Florist Limited – Nottingham
58 Derby Road, Nottingham, Nottinghamshire NG1 5FD
Phone: 0115 837 9371
Worksop Flowers – Worksop
Mothers Day Flowers, Valentines Flowers, Bouquets, Funerals Flowers, Wedding Flowers, Gifts.
Newcastle Street, Worksop, Nottinghamshire S80 2AR
Phone: 01909 472778
Woods Of Arnold - Nottingham
Interflora Florist, 3 Hour Same and Next Day Delivery, Exotic Flowers, International Flower Delivery, Balloon Bouquets.
4 Beechwood Road, Nottingham, Nottinghamshire NG5 8BA
Phone: 0115 926 2038
Zest Florists - Mansfield
Bentinck Chambers, 14, Market Street, Mansfield, Nottinghamshire NG18 1JG
Phone: 01623 623311
Zinnia – Nottingham
Independent florist. Our creative and fresh designs use the best seasonal flowers, providing gifts, funeral tributes and bespoke wedding flowers.
32 Market Place, Nottingham, Nottinghamshire NG13 8AN
Phone: 01949 480665
GARDENING ADVICE ARTICLES ON GARDEN GROWER
Avon | Bedfordshire | Cheshire | Cornwall | Cumbria | Derbyshire | Devon | Dorset | East Sussex | Essex | Hampshire | Herefordshire | Hertfordshire | Isle of Wight | Kent | Lancashire | Leicestershire | Lincolnshire | Middlesex | Norfolk | Nottinghamshire | Oxfordshire | Shropshire | Somerset | Suffolk | Surrey | West Midlands | West Sussex | Wiltshire | Yorkshire
Florists Floristry Flower shops in Nottinghamshire selling Bouquets, Flower Arrangements and freshly cut flowers ,flower posies and Floral Gifts, Florist shops in Nottinghamshire Funeral flowers and Wedding Bouquets - Cut Fresh Flower Bouquets Delivered by florists in all areas of Nottinghamshire