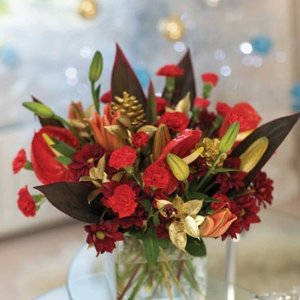 Florists in Cheshire - Flower Shops, and Home Flower Deliveries in Cheshire.
The colour of the individual flowers in an arrangement is often what attracts most people to a special bouquet. However there is a lot more behind the choice of flower colours than being just being pleasant and enjoyable to look at.
Over the past centuries flowers have held a special symbolism of their own. Traditionally the colour and variety of a flower is filled with meaning - an example is Red Roses being a favourite flower to symbolise love.
Acer Florist Cheshire – Frodsham
Flowers For All Occasions, Hand Tied Bouquets, Weddings and Special Events, Funeral and Sympathy Designs, Teddies, Chocolates, Balloons, Same Day Delivery.
116 Chester Road, Frodsham, Cheshire WA6 0QT
Phone: 01928 733685 / 01928 722757
Antique Rose – Stockport
Personal and Friendly Service, Bespoke Wedding Flowers, Specialist in Funeral Tributes, Wide Selection of Flowers, National Delivery Available, Bouquets to Suit All Budgets.
22, Market Street, Stockport, Cheshire SK6 7AD
Phone: 0161 449 0500
Barkers – Altrincham
Same Day Local Delivery, Funeral / Wedding Specialists, Exotic Plants, Balloons, Interflora Worldwide, Covering Cheshire.
105 Thorley Lane, Altrincham, Cheshire WA15 7AL
Phone: 0161 241 1211
Beryl Cotton Lifestyle Flowers – Warrington
Fresh Flowers, Exotic Unusual Blooms, Bouquet, Birthdays and Anniversaries, Wedding Specialists, Corporate Functions, Funeral Tributes.
9 Crown Street, Warrington, Cheshire WA1 2AE
Phone: 01925 655282
Cocoa Flower – Chester
Send flowers in Chester, Fresh Flower Bouquets, Handmade Chocolates and Cards, Wedding Specialists.
20A George Street, Chester, Cheshire CH1 3EQ
Phone: 01244 565669
FAB Flowers – Dukinfield
Balloons, Flowers, Delivery, Cakes, Outside Catering, Café.
72, Yew Tree Lane, Dukinfield, Cheshire SK16 5BJ
Phone: 0161 3382075
Flowers By Design – Cheadle
Hand Ties and Bouquets, Traditional and Tropical Flowers, Gifts, Home Accessories, Cards, Funerals, Weddings, Events, Plants, Planted Arrangements, Events and Functions.
80 Church Road, Cheadle, Cheshire SK8 4NQ
Phone: 0161 441 5842
Flowers By Gaynor – Chester
Interflora Florist, Chocolates, Teddies, Balloons, All Occasions Floral Gifts, 3 Hour, Same and Next Day Deliver, Worldwide Delivery Service, Quality Flowers Guaranteed.
140 Christleton Road, Chester, Cheshire CH3 5TD
Phone: 01244 348295
Flower Emporium – Stockport
Fabulous Flowers and Gifts, All Under One Roof In Heaton Moor. Specialists in Weddings, Tribute Flowers, Corporate and Special Occasions.
9, Moorside Road, Stockport, Cheshire SK4 4DT
Phone: 0161 442 1566
Flower Shop Frodsham - Flowersdirect – Frodsham
Fabulous Flowers Delivered, Premium Hampers and Luxury Gifts, Local National International
2 Eddisbury Square, Frodsham, Cheshire WA6 6QS
Freephone : 0800 975 9940
Forget Me Not – Winsford
Unique 3 Hour Delivery, Hand - Crafted Designs, Quality Guaranteed, Same Day Delivery, National Delivery, International Delivery.
72a, Delamere Street, Winsford, Cheshire CW7 2LU
Phone: 01606 592798 / 01606 557933
Forever Flowers – Warrington
Local Delivery Service, Quality Fresh Flowers, Wedding Flowers - Fresh and Silk, Gifts and Vases, Funeral Tributes, Hand Tied and Water Bowls.
32 Norris Street, Warrington, Cheshire WA2 7RL
Phone: 01925 635784
Heaven Sent Flowers and Gifts - Warrington
Florist, Wedding Flowers, Funeral Flowers. Aqua Packs, Hand Tied Bouquets. Corporate, Birthday and Anniversary Bouquets, Valentines and Mothers Day Bouquets, Christmas Flowers.
757 Knutsford Road, Warrington, Cheshire WA4 1JY
Phone: 01925 636688
2 Lips - Flowersdirect – Warrington
Fabulous Flowers Delivered, Premium Hampers and Luxury Gifts, Local National International.
123 Fairfield Road, Warrington, Cheshire WA4 2BU
Freephone: 0800 975 9940
Petalcraft – Stockport
Distinctive Bouquets and Designs, Qualified Florists, Interflora, Local and International Delivery, Seasonal Gifts and Plants, Sympathy and Funeral Tributes, Wedding Flowers a Specialty.
49, Park Lane, Stockport, Cheshire SK12 1RD
Phone: 01625 877214
Prestbury Flower – Macclesfield
Interflora Florist, Local and National, Worldwide, Same Day Delivery Service, Flowers For All Occasions, Hampers, Gifts, Contract Work Welcome.
Swanwick House, The Village, Macclesfield, Cheshire SK10 4DG
Phone: 01625 829609
The Flower Shop – Sandbach
Bouquets, Weddings, Chocolates, Sympathy –Tributes, Corporate Contracts, Local Deliveries, Interflora Orders Worldwide.
32A Congleton Road, Sandbach, Cheshire CW11 1HJ
Phone: 01270 440862
Village Florist – Warrington
Interflora Florist, Quality Flowers Guaranteed, 3 Hr Same and Next Day Delivery, International Flower Delivery, Chocolates, Teddies, Balloon Bouquets, Luxury Gifts.
3, London Road, Warrington, Cheshire WA4 6SG
Phone: 01925 261410
GARDENING ADVICE ARTICLES ON GARDEN GROWER
Florists Flowers Floristry and Flower shops in Cheshire selling Flower Arrangements, Bouquets and freshly cut bouquets of flowers ,flower posies and Floral Gifts, Florist shops in Cheshire Funeral flowers and Wedding Bouquets - Delivered by florists in all areas of Cheshire