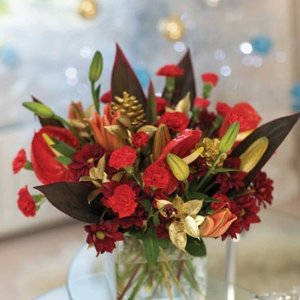 Florists in West Midlands - Floristry Flower arrangements and Flower Delivery, Flowers Delivered.
Where to find a Florist selling flowers and bouquets in West Midlands
Flowers have been used for thousands of years to celebrate festivals, important occasions and as gifts and decoration - the ancient Egyptians are the earliest known flower arrangers!
When choosing flowers consider the message that is being sent - The Victorians would choose flowers according to the emotion they wanted to convey - Daffodils represented unrequited love, Freesias innocence and trust and Irises meant passion!
A Cottage Garden – Wolverhampton
For a huge choice of styles,To match all budgets, Prompt local deliveries, Weddings and funerals, Traditional and exotic stock. 49 Bridgnorth Road, Wolverhampton, West Midlands WV6 8AF Phone: 01902 243371 / 01902 243637
Any Occasion Florist and Giftware – Birmingham
Wedding Flowers and Packages, Christening and Birthday Flowers, Funeral Wreaths, Bespoke Flowers For All, Pots, Balloons and Baby Baskets, Wedding Hair and Beauty Packages.
1484 Pershore Road, Birmingham, West Midlands B30 2NT
Phone: 07949 174987
Andrea's Garden Of Eden – Coventry
Flowers for All Occasions, Weddings, Corporate Events, Funerals
341, Tile Hill Lane, Coventry, West Midlands. CV4 9DU
Phone: 024 7646 1220
Arcadia Florist - flowersdirect – Coventry
Flowers for All Occasions, Funeral Flowers, Bridal and Wedding Flowers, Hand Tied Bouquets, Same Day Delivery *Order By 12, Free Delivery In Coventry.
3 Binley Road, Coventry, West Midlands CV3 1JF
Phone: 024 7645 0226
Billingham's – West Bromwich
Hand - Crafted Designs, Quality Guaranteed, Same Day Delivery, National Delivery, International Delivery.
393, High Street, West Bromwich, West Midlands B70 9QW
Phone: 0121 553 0972 / 0121 553 2523
Bloomingdales Florist – Coventry
Local Some Day Delivery, Modern and Traditional, Flowers for All Occasions, Friendly, Reliable Service
63 Winsford Avenue, Coventry, West Midlands CV5 9JG
Phone: 024 7667 6696
Connies Florist – Birmingham
Same Day Delivery, High Quality Flowers For All Occasions, Weddings and Funeral Specialist, Hand Tied Bouquets, Balloons, Vases and Jewellery.
139 Monyhull Hall Road, Birmingham, West Midlands B30 3QG
Phone: 0121 270 0104
Dewfresh Flowers – Birmingham
Flowers for All Occasions, Weddings and Funerals, Corporate and Celebrations, Bouquets Made To Order, Indoor and Outdoor Plants, Local And National Delivery.
Unit 7/8, The Kingstanding Centre, Birmingham,
West Midlands B44 9HH Phone: 0121 2016627
Floral Arts – Dudley
Flowers for All Occasions, Bouquets, Hand Tied Flowers, Weddings and Funeral Flowers, Balloons, Teddies and Gifts, Major Credit Cards Accepted, Local Delivery Available.
47b, Pensnett Road, Holly Hall, Dudley, West Midlands DY1 2EZ
Phone: 01384 881700
Flowers By Andrew – Stourbridge
High Class and Contemporary, Full Wedding Service, Gift and Sympathy Work, Belgium Chocolates and Balloons, Local Same Day Delivery, Major Credit Cards Accepted.
18-22 Clifton Street, Stourbridge, West Midlands DY8 3XS
Phone: 01384 443380
Flowers By Iris – Coventry
Interflora Florist, Quality Flowers Guaranteed, 3 Hr Same and Next Day Delivery, International Flower Delivery, Champagne, Chocolates, Teddies, Balloon Bouquets, Luxury Gifts.
17 Black Bank, Coventry, West Midlands CV7 9NX
Phone: 024 7631 1894
Flower Orchard – Walsall
Same Day Delivery, Enthusiastic, Friendly Service, Flowers For All Occasions, Funerals, Corporate, Weddings, Fruit Baskets, Balloons, Prompt Reliable Service.
161 Walsall Wood Road, Walsall, West Midlands WS9 8HA
Phone: 01922 452017
Flowers by Polly – Wednesbury
Independent Florist, Funeral Flowers, Sympathy Flowers, Wedding Flowers, Birthday Flowers, Corporate Events.
17 Upper High Street, Wednesbury, West Midlands WS10 7HQ
Phone: 0121 647 9631
Four Oaks Florists – Sutton Coldfield
Quality Hand - Crafted Designs, Same Day Delivery, National Delivery, International Delivery.
282A Lichfield Road, Sutton Coldfield, West Midlands B74 2UG
Phone: 0121 308 1789
Gillys Lillys – Smethwick
Flowers For All Occasions, Balloon Decorators, Wedding and Funeral Specialists, Corporate Events, Gift Shop and Cards, All Credit Cards Accepted.
36 Waterloo Road, Smethwick, West Midlands B66 4JW
Phone: 0121 558 2007
Hubbards Florists – Coventry
Personal Attention at all Times,Specialist in Floral Design, Plants, Balloons and Cuddly Toy, Weddings, Funerals, Birthdays, Local Delivery Included.
56 Holbrook Lane, Coventry, West Midlands. CV6 4AB
Phone: 024 7668 8568
Johnsons The Florist – Coventry
Contemporary and Traditional, For All Your Floristry Needs, Funerals - Weddings – Bouquets, Delivery Service Available, Over 20 Years Experience, Friendly Reliable Service.
Retail Market, Queen Victoria Road, Coventry,
West Midlands CV1 3HT Phone: 024 7625 6399
Lily White Florist – Sutton Coldfield
Flowers Delivered West Midlands, Bouquets and Arrangements, Wedding Flowers, Funeral Tributes, Same Day Delivery, Telephone Orders Taken.
380 Boldmere Road, Sutton Coldfield, West Midlands B73 5EZ
Phone: 0121 3824111
Mollies Rosies Florist – Birmingham
Stunning Bouquets, Specialist Funeral Tributes, Quirky Gift Ideas, Bespoke Wedding Flowers, Same Day Delivery, All Budgets Catered For.
1173 Bristol Road South, Birmingham, West Midlands B31 2SL
Phone: 0121 477 2277
Newtons Floral Designs – Wolverhampton
Same Day Delivery, Highest Quality Flowers, Wedding Flowers and Birthdays, Floral Tributes, Free Parking on Site, Open 7 Days a Week.
U S A M Trading Estate, Wolverhampton,
West Midlands WV10 8HN Phone: 01902 787606
Orchard Florist – Bilston
Floristry Specialists, Prompt Guaranteed Delivery, Very Competitive Prices, Large Range Of Bouquets, For All Styles And Tastes, We Cover All Areas.
34, Church Street, Bilston, West Midlands WV14 0AH
Phone: 01902 495591
Petals Of Piccadilly – Birmingham
Flowers for All Occasions, Same Day Deliveries, Interflora Specialist, Weddings and Funeral Tributes, Company Accounts Welcomed.
17 Piccadilly Arcade, Birmingham, West Midlands B2 4HD
Phone: 0121 643 2468
Perkins And Sons - Coventry
Unique 3 Hour Delivery, Hand - Crafted Designs, Quality Guaranteed, Same Day Delivery, National Delivery, International Delivery.
35 Earlsdon Street, Coventry, West Midlands CV5 6EP
Phone: 02476 677375
Roses Florist – Birmingham
Hand Tied Bouquets,Same Day Delivery, Local and National Coverage, Unique Bridal Designs Weddings, Floral Tributes, Flowers for any Occasion.
5 Birdbrook Road, Birmingham, West Midlands B44 8RA
Phone: 0121 366 7226
Russells Of Edgbaston – Edgbaston
Same Day Delivery, Corporate Events, Funeral Arrangements, Wedding Flower Specialists, Bespoke Arrangements, Gifts, Chocolate, Teddy Bears.
14 Islington Row Middleway, Birmingham,
West Midlands B15 1LD Phone: 0121 201 5809
Sharon's Florist – Bilston
Flowers for All Occasions, Specialist Funeral Services, Weddings, Birthdays and More, Covering all Areas, Prompt Local Delivery.
39 Bank Street, Bilston, West Midlands WV14 8PD
Phone: 01902 243969
The Flower Basket – Stourbridge
Interflora Florist, Quality Flowers Guaranteed, Local and International Flower Delivery, Chocolates, Teddies.
11 Market Street, Stourbridge, West Midlands DY8 1AB
Phone: 01384 371930
The Flower Bed – Birmingham
Beautiful Modern and Traditional Arrangements to Suit All Budgets, Wedding Specialists, Hand Tied Bouquets, Delivery Service, Funerals and All Parties, Events, Handmade Tiaras.
85 Woodlands Park Road, Birmingham, West Midlands B30 1HA
Phone: 0121 451 1010
The Tomlinson Flower Company – Coventry
Weddings, Birthdays, Funerals, Interflora, Chocolates.
13 City Arcade, Coventry, West Midlands CV1 3HX
Phone: 02476 225533
The Village Florist – Birmingham
Hand Tied Bouquets From £15, Aqua Boxes From £25, Funeral Tributes, Gift Boxes of Fruits and Hampers.
21 The Square, Birmingham, West Midlands B48 7LA
Phone: 0121 661 9669

GARDENING ADVICE ARTICLES ON GARDEN GROWER
Floristry and Florists and in West Midlands selling Cut Flowers and Flower Arrangementa, Flower Baskets, posies and Floral Gifts, Fresh Cut Flowers, and Wedding Bouquets - Flowers Delivered by Florists in all areas of West Midlands