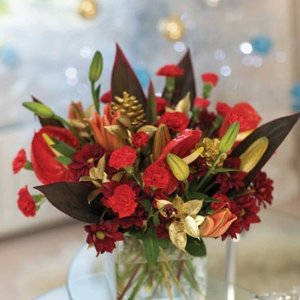 Florists in Suffolk - Floristry Flower arrangements and Flower Delivery, Flowers Delivered.
Where to find a Florist selling flowers and bouquets in Suffolk
Flowers and floral arrangements have been used by us for hundreds of years to as a way to celebrate festivals, make tributes and to express our love. A beautiful flower is a piece of art in itself, but a skillful florists can create stunning works of art using flowers in the art of Floristry.
Amor's Florist – Bungay
Flowers For All Occasions, Weddings, Christenings and Birthdays, Funerals, Free Local Delivery, Interflora.
4a, Earsham Street, Bungay, Suffolk NR35 1AG
Phone: 01986 895019
Bedwells Florist – Ipswich
Interflora Signature Florist, Same Day Delivery and International Flower Delivery, Chocolates and Teddies, Balloon Bouquets and Gifts.
2 Northgate Street, Ipswich, Suffolk. IP1 3BZ
Phone: 01473 357982
Blooming Lovely – Haverhill
Interflora Florists, Hand Tied Specialists, Same Day Deliveries, Exotic Designs, Bespoke Florists selling Flowers For All Occasions.
6d, High Street, Haverhill, Suffolk CB9 8AA
Phone: 01440 842080
Boundary Flowers – Ipswich
Boundary Farm, Ipswich, Suffolk IP6 9LX
Phone: 01473 738828
Calla's Floral Designs – Ipswich
Ipswich Florist selling Fresh Hand Tied Bouquets, Traditional and Contemporary Floral arrangements and bouquets, Wedding Flowers Specialist, Flowers for Birthdays.
Wingfield House, 1, Wingfield Street, Ipswich, Suffolk IP4 1AR
Phone: 01473 216600
Cheryl Bird Florist – Sudbury
Specialists In All Wedding Flowers, Free Consultations, Covering: Colchester, Sudbury, Bury, Newmarket, Cambridge Flowers for Funerals, Parties, Christening and Corporate Events.
Canhams, Upper Road, Sudbury, Suffolk CO10 0PA
Phone: 01787 227259
Chocolate Tulip Florists
14, Chaucer Road, Felixstowe, Suffolk IP11 7RS
Phone: 01394 690521
Dee's Floral Designs – Bury St Edmunds
Fresh, Dried, Silk, Weddings and Funerals, Special Occasions, Flower Arrangements, Handmade Gifts.
7 Police Station Square, Bury St. Edmunds, Suffolk IP28 7ER
Phone: 01638 717707
Flowers and Balloons – Bury St Edmunds
Flowers For All Occasions, Same Day Delivery Available, Wedding Specialists, Creative Arrangements, Traditional Designs and Bouquets, Floral Funeral Tributes.
46 Abbeygate Street, Bury St Edmunds, Suffolk IP33 1LB
Phone: 01284 331402
Floral Cascades – Brandon
High Quality Floral Products, Floral Arrangements, Flowers For Every Occasions, Festive Decorations, Christmas Weddings and Funerals., 53, High Street, Brandon, Suffolk IP27 0AU
Phone: 01842 814844
Flowers For Special Occasions - Saxmundham
Florists selling Weddings Flowers, Bouquets and Arrangements, Funeral Flowers, Aqua Packs, Balloons and Accessories, Flower Delivery.
6a High Street, Saxmundham, Suffolk IP17 1DD
Phone: 01728 602020
Fresh and Silk Flowers – Beccles
Same Day Deliveries (15 Miles), Quality Fresh and Silk Flowers, Traditional Hand Tied Bouquets, Wedding Receptions and Marquees, Flowers For Every Occasion, Teleflorist Member.
14, Blyburgate, Beccles, Suffolk NR34 9TB
Phone: 01502 712044
Mansion House Flowers – Halesworth
Corporate Events, Wedding and Funeral Flowers, Bouquets Made To Order, Flowers For All Occasions, Corporate Events, Quality Service Style and Value.
Mansion House, 27 Market Place, Halesworth, Suffolk IP19 8AY
Phone: 01986801229
Murtons – Ipswich
Weddings and Funerals, Flowers for Corporate Events, Hand Tied and Bouquets, Helium Balloons and Basket Arrangements, Local Delivery.
47 Woodbridge Road East, Ipswich, Suffolk IP4 5QN
Phone: 01473 400240
Myrtle and Mint Flowers – Ipswich
Beautiful Flowers and Gifts, Corporate Flowers, Contemporary and Vintage Vases, Funeral Arrangements, Weddings and Events, Daily Deliveries.
32 St Peters Street, Ipswich, Suffolk IP1 1XB
Phone: 01473 357052
Oaktree Wholesale - Mildenhall
Fresh Flowers Wholesalers, Florist Sundries, Helium Balloons Gas, Trade and Cash & Carry, Stockists Of Oasis Products, Foil and Latex Balloons.
66 James Carter Road Industrial Estate, Mildenhall,
Suffolk IP28 7DE Phone: 01638 591456
Occasions By Natalie – Bury St Edmunds
Interflora Member, Local National International, Fully Qualified Florist, Corporate Enquiries Welcome, Flowers For All Occasions, Balloons, Chocolates, Teddies.
29 Churchgate Street, Bury St. Edmunds, Suffolk IP33 1RG
Phone: 01284 701346
Penny's – Lowestoft
Wedding and Funeral Arrangements, Traditional and Modern Displays, Hand Tied Bouquets, Corporate Flowers and Bouquets, National and Local Delivery
40, Norwich Road, Lowestoft, Suffolk NR32 2BW
Phone: 01502 572874
Sally's House of Flowers – Bury St Edmunds
Mildenhall Interflora Florist, Wedding Flower Consultations, Corporate Flower Displays, Funeral Flowers, Chair Covers and Cake Stand Hire, Plants, Teddies and Balloons.
2 New Street, Bury St. Edmunds, Suffolk IP28 7EN
Phone: 01638 712923
Sansoms Florist – Lowestoft
Traditional and Modern Florists, Aqua Bouquets, Balloons, Gifts and Chocolates, Funeral and Wedding Specialists, Same Day Delivery, Sympathy Flowers.
Unit 1, 6 Milton Road East, Lowestoft, Suffolk NR32 1NT
Phone: 01502 441462
Simply Flowers – Ipswich
Same Day Deliveries, Weddings and Funerals, Corporate Events, Helium Balloons, Contemporary and Traditional, All Occasions.
263 Hawthorn Drive, Ipswich, Suffolk IP2 0QG
Phone: 01473 601711
Susans Flowers – Felixstowe
Flowers For All Occasions, Hand Tied Bouquets, Beautiful Arrangements, Personal Friendly Service, Funeral Tributes, Wedding Flower Specialist.
239, High Street, Walton, Felixstowe, Suffolk IP11 9DU
Phone: 01394 331184
Susette's Flowers – Bury St Edmunds
Interflora Florist selling Quality Flowers - All Occasions Catered For, Bridal Packages, Local Delivery Service,
19 St Johns Street, Bury St. Edmunds, Suffolk IP33 1SJ
Phone: 01284 753778
The Suffolk Flower Company – Ipswich
Locally Grown Luxury Flowers, Country, Vintage, Funerals, Weddings, Corporate, Valentines and Mother's Day, Bouquets and Hand Ties.
82, High Street, Ipswich, Suffolk IP7 5DF
Phone: 01473 827698
Vintage and Green - Felixstowe
Stunning Seasonal Flowers, For All Occasions, Weddings And Funerals, Corporate And Events, Same Day Delivery, Antiques, Gifts And Cards.
1 Great Eastern Square, Felixstowe, Suffolk IP11 7DY
Phone: 01394 275853
W & M Smith – Stowmarket
Florist Sundries, Basket-Ware, Dried and Silk Flowers, Helium Balloons, Paper Bags and Sacks, Delivery Service Available.
Pightle Barn, Stowmarket, Suffolk IP14 5EU
Phone: 01449 711014
Windmills Florist – Woodbridge
Quality Fresh Flowers and Plants, Creative and Inspired Designs, Chocolates, Balloons and More, Professional and Friendly Staff, Full Delivery Service
3A, Cumberland Street, Woodbridge, Suffolk IP12 4AH
Phone: 01394 331113
GARDENING ADVICE ARTICLES ON GARDEN GROWER
Avon | Bedfordshire | Cheshire | Cornwall | Cumbria | Derbyshire | Devon | Dorset | East Sussex | Essex | Hampshire | Herefordshire | Hertfordshire | Isle of Wight | Kent | Lancashire | Leicestershire | Lincolnshire | Middlesex | Norfolk | Nottinghamshire | Oxfordshire | Shropshire | Somerset | Suffolk | Surrey | West Midlands | West Sussex | Wiltshire | Yorkshire
Floristry and Florists and in Suffolk selling Flowers fand Flower Arrangement, Flower Baskets and Floral Gifts, Fresh Cut Flowers, and Wedding Bouquets - Flowers Delivered by Florists in all areas of Suffolk