SHRUBS
Shrubs and Trees provide the stucture of your garden landscaping. Shrubs provide screens, accents and backgrounds.
Trees provide shade for relaxing under on sunny days and also, along with shrubs roosting places for birds.
Flowering shrubs can give beautiful long lasting displays of flowers.
SOCIETIES
GROWING AND CHOOSING SHRUBS FOR YOUR GARDEN
The Garden Grower shrubs section looks at growing the best flowering shrubs for the garden.
WHAT IS A SHRUB?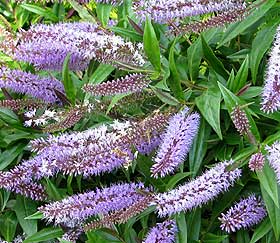 A shrub is a large woody plant usually under 5 to 6 metres high. It is distinguished from a tree by its shorter height and the presence of multiple stems rather than 1 trunk.
Some woody plants can be either trees or shrubs. This depends on the cultivation methods used and growing conditions. Small shrubs such as thyme, periwinkle, lavender are sometimes called subshrubs.
A shrub can be evergreen or deciduous.
SHRUB TOPIARY
Shrubs that have been clipped into shapes as topiary specimens usually develop dense foliage with many small leafy branches.
Most shrubs respond very well to hard pruning for renewal, in which cutting back branches to a 'stool' results in new long stems called canes growing.
We have tips and advice on how to prune shrubs, seasonal hints and links to the specialist garden societies.
ARTICLES AND ADVICE ABOUT SHRUBS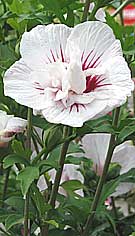 Hebe
Hibiscus
Hydrangea
Hypericum Reptans - St John's Wort
Japonica - Flowering Quince
Advice about pruning shrubs
Tamarisk - seaside shrub
How to Transplant a Shrub or Tree
---
---