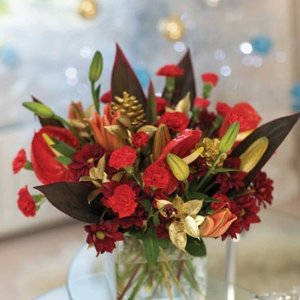 Florists in East Sussex - Flower Shops, and Home Flower Deliveries in East Sussex.
Fresh Cut flowers make the prefect gift for many occasions from birthdays to wedding annverseries.
Select flowers to suit the person you are sending the flowers to - consider their favourite colours (what colour clothes they like to wear is often a good indication) or the room they may be placing the flower arrangement in - attention to details like this will make your gift of flowers seem much more thoughtful.
Arlette Florists – Peacehaven
Same Day Delivery, Interflora Service, All Types Of Flower Designs, Local, National, International, Weddings, Funerals, Occasions, Credit Cards Accepted.
225a South Coast Road, Peacehaven, East Sussex BN10 8LB
Phone: 01273 583704
Ambers Florists – Seaford
Extremely experienced florists, High quality fresh flowers, Flowers for every occasion, Wedding and funeral specialist, Gifts and accessories, Balloons and chocolates.
20 Broad Street, Seaford, East Sussex BN25 1ND
Phone: 01323 402612
Belle Flowers - Robertsbridge
Independent Florists, Weddings, Funerals, Special Occasions, Balloons, Teddies, Chocolates and Gifts
28 High Street, Robertsbridge, East Sussex TN32 5AQ
Phone: 01580 882265
Bloomfields Florists - Hailsham
45, High Street, Hailsham, East Sussex BN27 1AN
Phone: 01323 847240
Carroll's Florists – Bexhill-on-Sea
Wedding Flowers and Bouquets, Bouquets and Hand Tied Flowers, Modern and Contemporary Designs, Funeral Tributes – Baskets, Exotic Flowers and Plants, Same Day and Next Day Delivery.
31 Ninfield Road, Bexhill-on-Sea, East Sussex TN39 5AE
Phone: 01424 231459
Dorothy Marchant – Bexhill-on-Sea
Unique 3 Hour Delivery, Quality Hand - Crafted Designs.
73 Western Road, Bexhill-on-Sea, East Sussex TN40 1DT
Phone: 01424 213023 / 01424 218038
Floral Inspiration - Flowersdirect – Brighton
Fabulous Flowers Delivered, Premium Hampers and Luxury Gifts.
63 High Street, Brighton, East Sussex BN2 7HE
Phone: 0800 975 9940
Fleur De Lynn Designer Florist – Hastings
Bouquets for all occasions, Baskets arrangments, Wedding Flowers, Funeral Flowers, Fabulous Flowers Delivered, Premium Hampers and Luxury Gifts.
8 Alexandra Parade, Hastings, East Sussex TN34 2PQ
Phone: 01424 231402
Flowers Unlimited – Hove
Interflora World Delivery, Same Day Delivery Service, Weddings and Funerals, All Contract and Account Work, Contemporary, Exotic, Chocolates, Teddies
175-177 Portland Road, Hove, East Sussex BN3 5QJ
Phone: 01273 289305
go.botanica florist - Brighton
Stunning Bespoke Flowers At Our Stands At Brighton and Hove Stations. Open 7 Days A Week, Easy Parking. Wedding and Funeral Tributes, Grab 'N' Go Bouquets and Selection Of Plants.
Brighton Station, Queens Road, Brighton, East Sussex BN1 3XP Phone: 07740 724734
go.botanica florist - Hove
Hove Railway Station, Goldstone Villas, Hove,
East Sussex BN3 3RU Phone: 07740 724734
Grand Flowers – Eastbourne
Nationwide and Worldwide Delivery - Weddings Are Our Speciality.
32 Meads Street, Eastbourne, East Sussex BN20 7QY
Phone: 01323 736968
Highgate Florist - Crowborough
1 High Street, Crowborough, East Sussex TN6 3LL
Phone: 01892 852783
J.D Fears – Hove
Flowers, Bouquet Arrangements, Balloons For All Occasions, Fruit Baskets, Soft Toys.
87 Old Shoreham Road, Hove, East Sussex BN3 7AQ
Phone: 01273 277249
Kemptown Flowers – Brighton
Flowers For All Occasions. Hand Tied and Gift Bag Bouquets, All Credit Cards Accepted, Same Day Delivery. All Fresh Cut Flowers.
7 Church Place, Brighton, East Sussex BN2 5JN
Phone: 01273 684334
Orchard Farm Florist - Etchingham
within Orchard Farm Shop, London Road, Etchingham, East Sussex TN19 7QS Phone: 07794 567355
Petals Florist – Eastbourne
Beautiful Bouquets Delivered, Valentines Day Roses, Funeral Flowers and Tributes, Wedding Flowers,
2 Brassey Parade, Brassey Avenue, Eastbourne,
East Sussex BN22 9NG Phone: 01323 402960
Peter's Flower Shop – Brighton
15 Carlton Terrace, Brighton, East Sussex BN41 1XF
Phone: 01273 417323
Pippins Nursey and Florist - Mayfield
Mayfield, East Sussex TN20 6JL Phone: 01825 830571
Rose Florist Limited – Brighton
Flowers For all Occasions, Same Day Delivery, Bouquets and Hand Ties, Wedding Flowers, Helium Balloons, Chocolates and Teddies.
63 Ditchling Road, Brighton, East Sussex BN1 4SD
Phone: 01273 355868
Scent the Florist - Brighton
101 Gloucester Road, North Laine, Brighton,
East Sussex BN1 4AP Phone: 01273 607600
Stone Cross Nurseries Limited - Flowersdirect – Pevensey
Fabulous Flowers Delivered, Premium Hampers and Luxury Gifts, Local National International Delivery.
Stone Cross Florist, Dittons Road, Pevensey,
East Sussex BN24 5ET Phone: 0800 975 9940
Temptations – Crowborough
Quality Interflora Florist, Same, Next Day Delivery and International Flower DeliveryChocolates And Teddies, Balloon Bouquets, Luxury Gifts.
8, Croft Road, Crowborough, East Sussex TN6 1DL
Phone: 01892 662631
The Floral Boutique Limited – Robertsbridge
Flowers, Plants for All Occasions - Fresh and Exotic Flowers Stock, Jewellery, Gifts Candles, Flowering and Foliage Plants
20 High Street, Robertsbridge, East Sussex TN32 5AQ
Phone: 01580 880977
The Florist – St. Leonards-On-Sea
12 Kings Road, St. Leonards-On-Sea, East Sussex TN37 6EA
Phone: 01424 442712
The Flower House-Burwash
High Street, Etchingham, East Sussex TN19 7HA
Phone: 01435 884002
Wadhurst Flowers - Wadhurst
7, High Street, Wadhurst, East Sussex TN5 6AG
Phone: 01892 783407
GARDENING ADVICE ARTICLES ON GARDEN GROWER
Florists Floristry Flower shops in East Sussex selling Bouquets, Flower Arrangements and freshly cut flowers ,flower posies and Floral Gifts, Florist shops in East Sussex Funeral flowers and Wedding Bouquets - Cut Flowers and Bouquets Delivered in all areas of East Sussex