SEASONAL TIPS
Spring - Transplant and divide Poppy plants

When new poppy seedling appear in Spring carefully transplant them using a trowel taking care to take plenty of soil to avoid disturbing the roots.

Divide clumps of Poppy every 3 years

Summer - Stake & Prune
Support the plants as they grow.

After the poppies have flowered cut the foliage down to just above ground level - this will stimulate new growth.

Autumn- Plant

Autmn is the time to plant oriental poppies. Poppy roots grow well in the warm autumn soil.

POPLUAR ORIENTAL POPPY VARIETIES
Papaver Forncett Summer - A coral coloured variety of Papaver orientale with fringed petals.
Picotee - A poppy with Salmon pink and white frilled flowers.
Beauty Queen - Apricot and brown flowers.
Marcus Perry - a striking scarlet oriental poppy
Harvest Moon - brilliant orange- scarlet poppy flowers
Curlilocks - the frilly-edged orange flowers with a black centre.
PLANT SOCIETIES
ORIENTAL POPPY - PAPAVER ORIENTALE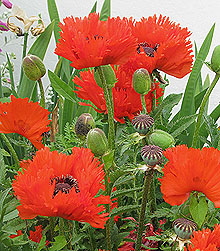 Oriental poppy (Papaver orientale) is a flowering perennial plant native to northeastern Turkey, the Caucasus and northern Iran.
Poppies have been cultivated as ornamental flowers since about 5000 BC where they were grown in Mesopotamia.
Poppies have been discovered in Egyptian tombs.
ORIENTAL POPPY FLOWERS
Oriental Poppies must grow for 2 years before they bloom, but the striking, fiery flowers are well worth the wait.
The wide, goblet-shaped flowers of the Oriental Poppy are produced in exotic shades of red, orange, maroon, white and salmon.
The flower petals are grouped around a simple seed head and resemble colourful sheaths of tissue paper. Poppy petals often have deep purple or maroon bases.
FOLIAGE
The leaves of the oriental poppy appear early in spring forming neat rosettes of foliage. These coarse, green leaves reach 25-30 centimetres in length when fully grown.
The foliage of the oriental poppy dies back during the midsummer months, with shoots often reappearing in early autumn and growing throughout the winter
WHERE TO PLANT ORIENTAL POPPIES
Oriental poppies have deep tap roots that dislike being disturbed or transplanted, so it is best decide on a permanent location before planting out.
The long fleshy roots of Papaver orientale do not tolerate being cramped in shallow soil so ensure there is deep well worked soil in your flower-bed.

The Oriental poppy prefers a sunny location with very well- drained soil - they will not do well iin waterlogged or very damp soils. Poppies need a full day of sun to ensure a good display of flowers from May to July.
It looks best in flower-beds that need a close of explosive colour - add drama to a perennial flower garden by including a swathe of spectacular oriental poppics.
The showy blooms of the Oriental Poppy are sure to take centre stage among other perennial flowers.
Planted a long a path, facing west towards the sunset, the bright poppy blooms look as though they are on fire.
Beside a house, oriental poppies offer a burst of colour for a sun-drenched, pale-coloured wall.
CARE OF ORIENTAL POPPY PLANTS AND FLOWERS
Get Papaver Orientlale off to a good start by incorporating plenty of organic material into the soil.
Apply only a small amount of fertiliser - these types of poppies do not respond well to being overfed, especially if nitrogen-rich fertiliser is applied as this results in excessive leaf growth which then limits flower production.
Aftercare of oriental poppies is simple. The plants can have the dead heads removed (deadheaded) or be left to ripen and self-seed through out the garden.
---
---
GROWING POPPIES FROM SEED - PROPAGATION
If growing oriental poppies from seeds, sow them into a well-raked sandy soil, or into pots and transplant when large enough.
As the seeds are tiny it is a good idea to mix them with sand to make sowing easier.
Bear in mind that most poppies grown from seed will produce red flowers. To produce plants with specific characteristics such such as colour or frilled leaves it is better to propagate plants from root cuttings or buy specially cultivated seed.
PERFECT PARTNERS IN THE FLOWER BORDER
Oriental poppies are sure to steal the show with their vibrant glowing colours, so plant them with partners that produce flowers in subtle, cool shades and others that continue to produce colour when the blooms of the oriental poppy are beginning to fade.
Artemisia 'Silver Queen', look stunning with colourful poppies. Set off these smoky silver greys with one of the scarlet oriental poppies.
White flowers contrast well with the stronger colours of poppies.
USEFUL GARDENING ADVICE AND ARTICLES
How to grow Oriental Poppies - a favourite red flower for the cottage garden. Expert advice on seasonal care and growing tips on growing a poppy plant from seed or young plants.