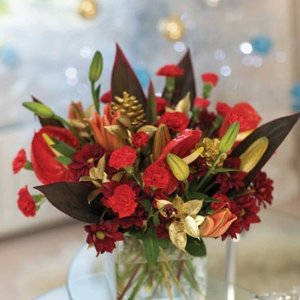 Florists in Norfolk - Floristry Flower arrangements and Flower Deliveries in Norfolk.
Where to find Florists selling cut flowers, bouquets and flower arrangements in Norfolk
Cut flowers have been part of celebrations for centuries - the ancient Egyptians are amongst the earliest known florists!
When choosing flowers consider the message that is being sent - The Victorians would choose flowers according to the emotion they wanted to convey - Yellow Jasmine represented modesty, elegance and grace, Freesias trust and innocence and Irises conveyed passion!
Acle Country Florist – Acle
Award Winning Local Florist, Wedding Flowers, Funeral Tributes, Modern and Traditional Flowers, Same Day Local Delivery, Gifts and Balloons.
The Stonemasons Cottage, The Street, Acle, Norfolk NR13 3DY
Phone: 01493 835073
Arcade Florist – Great Yarmouth
Flowers For All Occasions, Wedding Flowers, Birthday Anniversaries, Corporate, Congratulations, In Sympathy, New Baby, Just Because.
41-42 Victoria Arcade, Great Yarmouth, Norfolk, NR30 2NU
Phone: 01493 843958
BloominGorgeous – Kings Lynn
Flowers, Plants And Gifts, Wedding And Corporate Flowers, Sympathy And Funeral Flowers, 2011 Workshops, Demonstrations, UK And Worldwide Deliveries
16 Ulph Place, King's Lynn, Norfolk PE31 8HQ
Phone: 01328 730375
Cornels Florist – Norwich
Friendly, Personal Service, Designs Made With Love! Modern, Traditional, Bespoke Funeral Tributes, Balloons, Teddies, Gifts, Same Day Delivery.
310 Constitution Hill, Norwich, Norfolk NR6 7RF
Phone: 01603 514897
Daisy Chain – Norwich
Same Day Delivery, Traditional and Contemporary, Interflora Flowers – Worldwide, Quality Fresh Flowers, Wedding Flowers A Speciality, Funerals Birthday and Gift Ideas.
13 Red Lion Street, Norwich, Norfolk, NR11 6ER
Phone: 01263 732633
Daisy Chain – North Walsham
Same Day Delivery, Traditional and Contemporary, Interflora Flowers – Worldwide, Quality Fresh Flowers, Wedding Flowers A Speciality, Funerals Birthday and Gift Ideas.
10, St.Nicholas Court, North Walsham, Norfolk, NR28 9BY
Phone: 01692 405117
Dale Farm Flowers – Dereham
Free Local Delivery, Complete Wedding Service, Bouquets and Arrangements, Funeral Tributes, Bespoke Floral Designs, Corporate Events.
Bushy Common, Dereham, Norfolk NR19 2PA
Phone: 01362 687154
Donna's Flowers – Dereham
Flowers For All Occasions, Sympathy Tribute Specialist, Small and Large Bouquets, Fresh Flowers, Daily Delivery Service, Free in Dereham.
73 Baxter Row, Dereham, Norfolk NR19 1AY
Phone: 01362 691462
Elizabeth the Florist – Downham Market
Hand - Crafted Designs, Quality Guaranteed, Same Day Delivery, National Delivery, International Delivery.
23 Bridge Street, Downham Market, Norfolk PE38 9DW
Phone: 01366 384414
Elizabeths the Florist – Norwich
Fresh Quality Flowers, Same Day Delivery, Weddings and Funerals, Birthday and Gift Ideas, Private and Corporate Services
87-89 Unthank Road, Norwich, Norfolk NR2 2PE
Phone: 01603 617829
Especially For You – Norwich
Designer Florists, For All Occasions, Funeral Tribute Specialist, Ready Arranged Bouquets, Delivery Service.
112 Boundary Road, Norwich, Norfolk NR6 5JE
Phone: 01603 426050
Flowers Of Norwich – Norwich
Flowers For Every Occasion, Funerals, Weddings, Birthdays, Local and Worldwide Deliveries, Modern and Traditional Designs
313 Aylsham Road, Norwich, Norfolk NR3 2AB
Phone: 01603 416655
Forget Me Not Flowers – Dereham
For The Flowers That Say Wow! From Weddings and Funerals to Aqua Pack Hand Tied Bouquets. Personal Same Day Delivery. 5 Shipdham Road, Dereham, Norfolk NR19 1JJ
Phone: 01362 695949
Garlands – Great Yarmouth
Wedding Specialist, Funeral Tributes, Interflora Florist, Teddies, Chocolates and Hampers, Same Day Delivery.
20 Howard St South, Great Yarmouth, Norfolk NR30 1LL
Phone: 01493 844122
Glenda's Sprig Of Heather – Great Yarmouth
Flowers For All Occasions, Worldwide Deliveries, Wedding and Funeral Specialist, Modern and Traditional, Same Day Delivery, Flowers For Business.
128-130 Lowestoft Road, Great Yarmouth, Norfolk NR31 6ND
Phone: 01493 600814
Ian's Floral Studio Limited – Dereham
Flowers For All Occasions - Weddings, Funerals, Birthdays, Anniversaries - Fresh Flowers,Bears, Chocolates, Balloons - Interflora - Same Day Delivery Service - 6 Days Week.
4 Church Street, Dereham, Norfolk NR19 1DJ
Phone: 01362 692037
Jasmine – Wymondham
Weddings, Civil Partnership, Gift Bouquets, Tele-florist, Corporate Events, Funerals, Trees and Plants To Buy Or Hire, Occasion Reminder Service, Home Accessories, Gift Bags.
1 Wood Avens Way, Wymondham, Norfolk NR18 0XJ
Phone: 01953 669650
Margaret Emms Florist – Norwich
Online Shop, Wedding and Funeral Flowers, Local, National, International, Interflora Member, Fruit Baskets, Champagne and Chocolates.
29 St Stephens Road, Norwich, Norfolk NR1 3SP
Phone: 01603 514880 / 01603 514774
Margaret's Florist Limited – Norwich
Beautiful Hand Tied Designs, Funerals, Weddings, Birthdays, Exotic Contemporary Flowers, Handmade Cards, Balloons, Chocolates, Bears, Interflora, Same Day Delivery.
105 Reepham Road, Norwich, Norfolk, NR6 5AB
Phone: 01603 518871
Naomi's Flower Gallery Limited – Great Yarmouth
Weddings, Funerals, Bouquets, Hand tied bouquets, Balloons, Chocolates, Teddies, Mothers Day Bouquets, Same Day Deliveries.
7 The Green, Great Yarmouth, Norfolk NR29 4AH
Phone: 01493 805165
Newlands Florist – Norwich
Classic and Contemporary Flowers, Birthdays, Anniversaries, Special Occasions, Balloons, Chocolates and Gifts, Funeral Tributes Arranged, Local Delivery.
76 High Street, Norwich, Norfolk NR12 9AS
Phone: 01692 669632
Olivia Rose Florist – Dereham
Say It With Flowers... Beautiful Fresh Flowers, Traditional and Contemporary, Birthdays, Weddings, Funerals, Corporate, Special Occasions, Same Day Delivery Service.
27 Norwich Street, Dereham, Norfolk NR19 1BX
Phone: 01362 696325
Oops A Daisy Florist – Norwich
Weddings and Funerals, Glass Vase Hire, Local and National Delivery, Anniversaries and Parties, Functions and Corporate Events, Designed Bouquets and Hand Tied.
6 Fakenham Road, Norwich, Norfolk, NR8 6PW
Phone: 01603 515 956
Pick-A-Lily Flower Shop – Norwich
Individual Gifts, Stylish Weddings, Funeral Designs, Exotic, Creative and Bespoke, Glassware and Ceramics, Contemporary and Traditional.
49 St Benedicts Street, Norwich, Norfolk NR2 4PG
Phone: 01603 514698
Rene's Florist – Norwich
For All Your Floral Needs, Funeral Tributes and Weddings, Fresh Cut Flowers, Gift Bouquets, Helium Balloons, Daily Delivery In Norwich, All Credit Cards Accepted.
82-82a Bowthorpe Road, Norwich, Norfolk, NR2 3TP
Phone: 01603 515659
Rose Garden – Cromer
Contemporary and Traditional, Bouquets and Hand Ties, Baskets and Arrangements, Funeral Tributes, Weddings, Local and Nationwide Delivery.
2B Mount Street, Cromer, Norfolk NR27 9DB
Phone: 01263 804016
The Flower Box Limited – Attleborough
Wedding and Funeral Flowers, Fresh Bouquets and Hand Ties, Balloons, Teddys and Gifts, Personal Delivery Service, Motor Racing Winners Chaplets, Interflora Florist – Worldwide.
1 Defiant Precinct, Church Street, Attleborough,
Norfolk NR17 2QE Phone: 01953 798191
The Flower Centre – Sheringham
Personal Service, All Flower Work Undertaken,, Weddings A Speciality, Sheringham, Cromer areas, Nationwide Delivery Network, Nationwide Delivery Network.
25 Station Road, Sheringham, Norfolk NR26 8RF
Phone: 01263 822374
W.J White – Great Yarmouth
Interflora Member, Same Day Delivery, Modern, Traditional and Unusual, Flowers From Around The World, On Line Ordering, Most Major Credit Cards Taken.
69 High Street, Great Yarmouth, Norfolk, NR31 6RQ
Phone: 01493 802244
W.J. White – Great Yarmouth
154 Northgate Street, Great Yarmouth, Norfolk, NR30 1BY
Phone: 01493 802325
GARDENING ADVICE ARTICLES ON GARDEN GROWER
Floristry and Florists and in Norfolk selling Cut Flowers and Flower Arrangements,flower posies and Floral Gifts, Florist shops in Norfolk Fresh Cut Flowers and Wedding Bouquets - Flowers Delivered by Florists in all areas of Norfolk