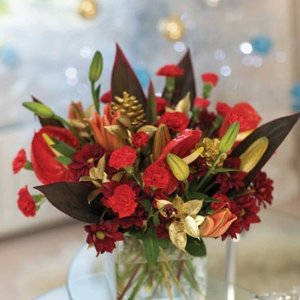 Florists in Hertfordshire - Floristry Flower arrangements and Flower Delivery, Flowers Delivered.
Where to find a Florist selling flowers and bouquets in Hertfordshire
Flowers and floral arrangements have been used by us for hundreds of years to as a way to celebrate festivals, make tributes and to express our love. A beautiful flower is a piece of art in itself, but a skillful florists can create stunning works of art using flowers in the art of Floristry.
In the Victorian era, flowers could send a different message to the recipient just by their color and variety. You wouldn't send Forget-me-nots to a girl if you intended to break up with her.
All Things Bright and Beautiful – Baldock

Flowers For All Occasions, Wedding Flowers, Funeral Reefs, Valentines Day, Mothers Day Gifts and Much More, Local and National Delivery, I Florist.
7 Hitchin Street, Baldock, Hertfordshire SG7 6AL
Phone: 01462 491785
Amity's Florist – Welwyn Garden City
Gold award winning florist, Fresh quality flowers, Bouquets and Handtieds, Beautiful arrangements, Stylish, Exotic and Traditional, Specialist in funeral tributes.
82, Haldens, Welwyn Garden City, Hertfordshire AL7 1DD
Phone: 01707 331199
Andrew Fleming Florist - Rickmansworth
1 Shire Lane, Rickmansworth, Hertfordshire WD3 5NQ
Phone: 01923 283924
Arts and Roses Flower Studio – Bishops Stortford
Florists selling flowers for Weddings and Funeral Tributes, Bouquets, Floral Arrangements, Parties and Corporate Flowers, Contemporary and Traditional, Local, UK and International Deliveries.
Unit 2, Heath View, Pond Lane, Bishop's Stortford, Hertfordshire CM22 7AB Phone: 01279 730400
Baldock Flowers – Baldock
Same Day Deliveries, Local, National, International, Mother's Day Flower Delivery, Weddings, Functions, Corporate, Funeral Tributes - Home Visits, Telephone Orders Welcome.
9, Whitehorse Street, Baldock, Hertfordshire SG7 6PX
Phone: 01462 416096
Black Iris Flowers – St Albans
Florists In St Albans, Bouquets and Arrangements, Funeral and Wedding Flowers, Corporate and Event Work, Exotic and Unusual Flowers, Traditional and Modern Designs
12, High Oaks, St. Albans, Hertfordshire AL3 6DL
Phone: 01727 850570
Carole Smith Creative Floral Designer – Stevenage
Flowers For All Occasions, Wedding and Event Specialist, Online Shopping Available, Funeral Tributes, Chair Covers and Balloon Décor, Local Same Day Delivery.
12, Parsons Green Estate, Boulton Road, Stevenage, Hertfordshire SG1 4QG Phone: 01438 900652
Cut 'N' Dried Florist – Potters Bar
Hand - Crafted Designs, Quality Guaranteed, Same Day Delivery, National Delivery, International Delivery.
6, Maynard Place, Potters Bar, Hertfordshire EN6 4JA
Phone: 01707 875787
Dandelyons Florist – Ware
Unique 3 Hour Delivery, Hand-Crafted Designs, Same Day Delivery, National Delivery, International Delivery.
53, High Street, Ware, Hertfordshire SG12 9BA
Phone: 01920 463186
Elegant Stems – Bishops Stortford
Stunning Bespoke Designs, Unique Personal Service, Hand Tied, Bouquets, Funerals and Sympathy, Wedding and Event Specialists, Flowers Delivered Locally.
The Old Stables, Wickham Hall Hadham Road, Bishop's Stortford, Hertfordshire CM23 1JG Phone: 01279 218368
Flower Craft - Ware
Bridal Floristry, Funeral Flowers, Church Flowers, Gifts, Flower Baskets, Vase Arrangements.
Unit 3, Hunsdon Road, Ware, Hertfordshire SG12 8LA
Phone: 01920 877781
Floral Wise Florist – Hoddesdon
Local and Worldwide Delivery, Specialists In Weddings, Plants, Chocolates, Balloons, Funeral Tributes, Soft Toys, Complete, Professional Service, Modern and Traditional.
113 High Street, Hoddesdon, Hertfordshire EN11 8TN
Phone: 01992 464746
Fuchsia Pink Florists – St Albans
Teleflorist In St. Albans, An Excellent Array Of Flowers, Flowers For Any Occasion, Funerals - Weddings Etc, Local Delivery Service, Soft Toys and Balloons.
36 High Street, St. Albans, Hertfordshire AL4 8AA
Phone: 01582 968859
Garden City Florists – Letchworth Garden City
Wedding Specialists, Funeral Tributes, Interflora; Same Day Delivery, Corporate and Event Organizers, Hand tied bouquets and posies For Every Occasion, Gifts , Soft Toys, Balloons.
6 Arena Parade, Letchworth Garden City. Hertfordshire SG6 3BY
Phone: 01462 685370 / 01462 485997
Gadsden Flowers – St Albans
Beautiful hand tied bouquets, Unusual and modern flowers, Local deliveries, Weddings and events, Weekly flowers for your home, Real and artificial plants.
9 Eaton Road, St Albans, Hertfordshire AL1 4UD
Phone: 01727 861661
Harvest Mouse Designs – Watford
Flowers For All Occasions, Weddings and Funerals, Bouquets and Balloons, Local, UK and International, Credit Cards Accepted, Professional Personal Service.
370 St. Albans Road, Watford, Hertfordshire WD24 6PQ
Phone: 01923 229563
Jasmine Flowers – Sawbridgeworth
Same Local Day National and Local Deliveries, Secure Online Ordering, Flowers and Gifts, Weddings and Funerals, Plants Chocolates and Balloons, Corporate and Events Catered For.
76 London Rd, Sawbridgeworth, Hertfordshire CM21 9JN
Phone: 01279 725894
Katie Picco Floral Design Centre - Hemel Hempstead
Wedding, Funeral Flowers, Hand Tied and Aqua Packs, Premium Hampers and Gifts, Bouquets and Arrangements, Modern and Traditional,Interior and Contract Flowers.
61 Waterhouse Street, Hemel Hempstead,
Hertfordshire HP1 1EA Phone: 01442 266228
Kendalls Florists – St Albans
Distinctive and Stylish Bouquets, Wedding Specialists, Funeral Tributes, Large Range Of Flowers, Plants, Same Day and World Wide Delivery, Corporate and Events Specialists.
213 Hatfield Road, St. Albans, Hertfordshire AL1 4SY
Phone: 01727 860207
Paradise Of Elstree – Borehamwood
Interflora Florist, 3 Hour Same, Next Day Delivery, International Flower Delivery, Chocolates, Teddies, Balloon Bouquets, Luxury Gifts.
1 Station Road, Borehamwood, Hertfordshire WD6 1DP
Phone: 0208 207 1515 / 0208 953 1418
Perry Florist – Harpenden
Wedding and Funeral Specialists, Exotic and Unusual Flowers, Same Day Delivery – Interflora, National and International, Chocolates, Champagne and Wine, Balloon Artistry.
5, High Street, Harpenden, Hertfordshire AL5 2RT
Phone: 01582 342250
Peony Florist and Gift Shop – Hitchin
Flowers for a gift, Weddings and Special Occasions, Funeral Flowers, Corporate and Events, Handmade Cards, Wide Selection of Gifts.
121 High Street, Hitchin, Hertfordshire SG4 8UA
Phone: 01438 901448
Perfect Moment – St Albans
Same Day Delivery, Exotic and Seasonal Flowers, Modern Handtied bouquets and arrangements, Wedding and Sympathy Flowers, Balloons, Chocolates, Soft Toys, Family Run Business.
25 The Quadrant, St. Albans, Hertfordshire AL4 9RB
Phone: 01727 221373
Ruby Tuesday – Baldock
Florist with Classic and Modern Bouquets for sale, Suppling Weddings, Bridal and Church, Corporate Functions and Accounts, Wreaths and Floral Tributes, Credit / Debit Cards Welcome, Local and National Delivery.
35, High Street, Baldock, Hertfordshire SG7 6BG
Phone: 01462 695009
Secret Garden Florists – Watford
20% Off All Local Funeral Work, Champagnes and Wines, 20% Off Of Weddings For 2011, Cath Kids Products Available, Fresh Flowers Daily, Local / Interflora Deliveries.
4 Market Street, Watford, Hertfordshire WD18 0PD
Phone: 01923 608967
Sherriesflowers – Waltham Cross
Wedding Florist, Sympathy Flowers, Funeral Flowers, Christenings and Special Events, Special Bouquets, Delivery Service.
276c High Street, Waltham Cross, Hertfordshire EN8 7EA
Phone: 01992 395065
Town Garden – Harpenden
Specialist Wedding Florists, Wedding Flowers and Bouquets, Wedding Corsages, Venue Floristry Decorations, Free Consultation and Quotation, Highly Experienced Florists.
57 High Street, Harpenden. Hertfordshire AL5 2SL
Phone: 01582 461616
The Ivy Florist – Stevenage
Flowers For Every Occasion, Same Day Deliveries, Balloons and Chocolates, Weddings, Sympathy, New Born, Event Floristry, Corporate Etc, Online and Telephone Ordering.
116, Oaks Cross, Stevenage, Hertfordshire SG2 8LU
Phone: 01438 904613
The Flower Cellar – Abbots Langley
Flowers For All Occasions, Wedding Flowers, Funeral Arrangements.The Best Local Florist, Local and Same Day Delivery, Balloons and Gifts Delivered.
5, Katherine Place,College Road,Abbots Langley,
Hertfordshire WD5 0BT Phone: 01923 680880
The Wedding Centre – Hemel Hempstead
Wedding / Funeral Flowers, Hand Tied and Aqua Packs, Premium Hampers and Gifts, Bouquets and Arrangements, Modern and Traditional, Interior and Contract Flowers.
59 Waterhouse Street, Hemel Hempstead,
Hertfordshire HP1 1EA Phone: 01442 501507
GARDENING ADVICE ARTICLES ON GARDEN GROWER
Floristry and Florists and in Hertfordshire selling Cut Flowers and Flower Arrangementa, Flower Baskets, posies and Floral Gifts, Fresh Cut Flowers, and Wedding Bouquets - Flowers Delivered by Florists in all areas of Hertfordshire