POPLUAR VARIETIES OF CHAENOMELES OR JAPONICA
Chaenomeles Speciosa Nivalis - pure white flowers
Chaenomeles Speciosa Geisha Girl - Peachy cream apricot coloured double flowers from January to April
Knap Hill Scarlet - A short, wide shrub with large orange/red flowers and fragrant yellow fruit.
Chaenomeles x Texas Scarlet - Tomato red flowers and glossy green leaves, reaches a height of 2 - 3 feet.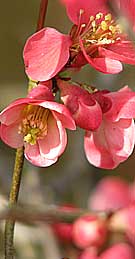 FLOWER GUIDES
CHAENOMELES JAPONICA - ORNAMENTAL JAPANESE QUINCE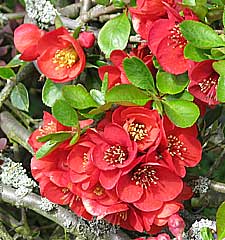 Japonica is a versatile spring flowering shrub for the garden.
The latin name of Japonica is Chaenomeles but it more commonly known as Japonica, Ornamental Japanese Flowering Quince or Cydonia.
There is often confusion over the name Japonica -the most commonly cultivated chaenomeles often referred to as Japonica are actually the hybrid Chaenomeles superba and Chaenomeles speciosa, and not Chaenomeles japonica.
FLOWERING OF JAPONICA OR JAPANESE QUINCE
The bare woody branches of the Japonica plant burst into beautiful blossom during the springtime months of March to May, most varieties have deep red flowers, but can also be pink or white.
After flowering Japonica produces dark green leaves and small green or golden fruits in the autumn that can be used to make jelly and add extra flavours to apple pies.
The height and spread of a chanomeles bush varies - to a maximum size of 5 metres x 2.5 metres.
HOW AND WHERE TO GROW JAPONICA
Most flowering Japonicas are suitable for training against a wall.
Japonica or Chaenomeles can also be grown into a spiky, but attractive hedge that will keep out unwanted neighbouring cats.
Chaenomeles enjoy full sun but will also tolerate and survive in partial shade.
Plant Japonica in any type of fertile soil - but at least 45 centimetres from the base of any nearby fence or wall.
PRUNING CHAENOMELES
Pruning is not necessary for bushes - but if you want to train a Japonica plant tie the stems in to a trellis or horizontal wires.
Once the plant is established, prune side-shoots after flowering to five or six leaves and remove crossing or damaged stems.
PROPAGATION OF CHAENOMELES /JAPONICA
To grow from seed - sow japonica seed under glass in Spring.
Shoots can be layered in the summer to produce new plants.
It is difficult to propagate Japonica from cuttings.
FRUITS OF THE FLOWERING QUINCE
The fruits of Chaenomeles are astringent, very hard and often unpleasant to eat raw, although they do soften and become more palatable after a hard frost (they are then described as "bletted").
---
---