SEASONAL TIPS FOR GROWING HIBISCUS
Spring - Hard prune your hibiscus plants to provide a good show of flowers in late summer.

Apply a Mulch around your Hibiscus to help retain moisture during summer.
Summer -
Make sure that newly planted hibiscus plants are kept well watered to prevent the roots from drying out.
Autumn-
Take cuttings of Hibiscus to propagate new plants.

Even if you don't need any more plants yourself at the moment its always good to have some in reserve in case you lose any plants during a hard winter. Friends and family would also be very pleased to receive a cutting of your favourite Hibiscus Shrub



POPLUAR VARIETIES OF HIBISCUS
Lady Stanley - A white doubled flowered hibiscus with a marroon centre
Lavender Chiffon - lilac double hibiscus flower
Lilac Queen - a beautiful single flowered lilac flower with a red centre.
Meehanii - this variety has of hibiscus has single pale purple flowers with a darker centre
Oiseau Bleu - lavendar blue Hibiscus with a maroon base
Red Heart - White flowers with a red centre
William R Smith - White flower
Woodbridge - Pink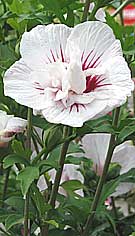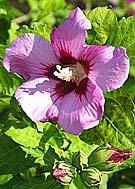 HIBISCUS SOCIETIES
HIBISCUS - PART OF THE MALLOW FAMILY OF PLANTS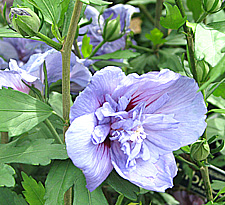 Hibiscus are a large group of flowering shrubs belonging to the Mallow family.
Many species of Hibiscus are grown in gardens for their spectacular flowers .
Hibiscus grow in many different climates - some are susceptible to frost but there are also many hardy varieties
Hibiscus flower is a primary ingredient in many popular herbal teas.
HIBISCUS FOR COLDER GARDENS
The choice of a hardy hibiscus for garden affected by frost is limited to 2 types of deciduous hibiscus shrubs - Hibiscus Syriacus, from East Asia and Hibiscus Sinosyriacus, from Western China.
Hibiscus Syriacus , The Syrian Mallow, has spreading growth and is one of the best flowering shrubs of late summer.
Hibiscus Sinosyriacus is more upright with larger flowers and broader leaves.
H. Sinosyriacus is the more tender of the two varieties.
These flowering shrubs will grow to a height of 6 - 10 feet and are resistant to most pests and diseases.
PLANTING HIBISCUS
Prepare a large hole 2 to 3 times the size of the container that the hibiscus plant has been supplied in. Loosen any pot bound roots and plant with organic material and fill the hole to just below garden soil level
If you are planting a grafted Hibiscus make sure that you don't cover the grafted area of the stem with soil.
PRUNING HIBISCUS
Hard pruning in Spring is not difficult and will promote a mass of large stunning flowers. Pruning Hibiscus consists of shortening the side shoots by 2 thirds.
TRAINING HISBISCUS PLANTS AS STANDARDS OR TREES
Hibiscus plants can also be trained as standards - they make wonderful focal points in small or sheltered gardens.
To train a hisbiscus as a standard plant or tree start by pruning the hibiscus in springtime back to just one stem and support it with a strong cane.
Any side shoots that subsequently appear should be removed - continue this process until the hibiscus reaches the required height.
Allow the shoots to develop at the top of the shrub until a bushy head forms, then prune each spring to contain the shape - this will also encourage a large display of hibiscus flowers.
CARE OF HIBISCUS
Hibiscus can be planted in ordinary garden soil and thrive well if given a good mulch in springtime.
Once the hardy hibiscus is established in its position in the garden it requires little aftercare.
They are late to come into leaf in springtime - so don't be fooled into thinking that they have died over the winter - their stems can often stay bare until June!
PROPAGATION OF HIBISCUS?
Hibiscus can be propagated from cuttings taken in autumn.
Insert the cuttings into sandy soil and keep in a cold frame until the roots are formed. ove to a reserve bed then, when the plants are established, plant out in their final positions.
HOTHOUSE HIBISCUS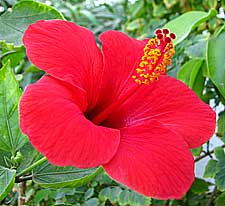 The tender hibiscus are natives of tropical countries and require a minimum winter temperature of 13 degrees celcius.
They form shrubs of up to 10 feet in height and may be grown in large flower pots or tubs - with repotting carried out in February.
Hothouse Hibiscus are best grown in the greenhouse in a compost of equal parts peat and loam with a sprinkling of crushed charcoal.
HIBISCUS TEA
Many people now drink Hibiscus tea - its benefits are being discovered the world over although peoples in parts of Asia have known about the benefits of Hibiscus tea for many centuries. Hibiscus teas contain a number of antioxidants that may help to protect against cell-damaging free radicals. They may also help to control high blood pressure.
Many herbal teas contain hibiscus flowers as part of their mix. Sip a mug ofthis teas and be reminded of sitting on a beach surrounded by tropical flowers.
You can dry your own petals to add to your own mix of hrbal teas.
---
---
GARDENING ARTICLES AND ADVICE ON GARDEN GROWER
How to grow Hibiscus - flowering shrubs belonging to the Mallow family. Advice on planting, pruning, care, propagation and growing from hibiscus plants from your own cuttings the many varieties of this beautiful garden shrub. Hibiscus - Advice on How to grow stunning flowering shrubs in your garden