PLANT GUIDES
SEASONAL TIPS
Early Spring -
Lightly prune any untidy honeysuckles to keep them in shape and under control.

Sow honeysuckle seeds in March.

Summer -
Propagate new honeysuckle plants from cuttings taken in July.
Autumn-
Prune Dutch Honeysuckle after flowering
POPLUAR VARIETIES OF LONICERA OR HONEYSUCKLE
Lonicera
Americana
Periclymenum
Xylosteum
Pileata
Japonica
Tatarica
Tragophylla
Fragrantissima
Halliana
Lonicera villosa – Mountain Fly Honeysuckle
Lonicera utahensis – Utah Honeysuckle Lonicera standishii – Standishs Honeysuckle Lonicera splendida - Evergreen Honeysuckle
---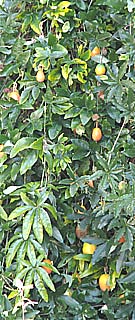 The Fruits of Passion Flower or Passiflora complement honeysuckle in the garden
HONEYSUCKLE TRIVIA
Honeysuckle Rose is the name of a 1980 Willie Nelson film and a solo piano jazz composition written by Fats Waller in 1935.
HONEYSUCKLES - LONICERA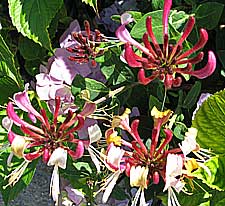 The long flowering season of many honeysuckles, their colour and delicious fragrance and scent, graceful habit and ease of culture in almost any soil make them a welcome plant in many gardens and they are very popular in English cottage gardens.
Honeysuckle,also known as Lonicera,is a climber which is rapid in growth, and will soon fill up space on a wall, trellis, pergola or old tree stump.
PRUNING HONEYSUCKLE
Pruning honeysuckle will keep it under control
HONEYSUCKLE FLOWERS
Honeysuckle flowers are often very scented and are succeeded in many instances by attractive fruits or honeysuckle berries.
Lonicera belongs to the Elderberry family, Caprifoliaceae, and is named after Adam Lonicer, a German naturalist of the sixteenth century.
TYPES OF HONEYSUCKLE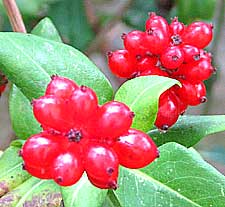 Honeysuckles are divided into two definite groups - one with climbing branches and dense clusters of flowers, the other of bushy habit with the flowers appearing in pairs frum the leaf axils.
There are, however, some variations of these general characteristics particularly in the climbing kinds of Lonicera.
WHERE TO GROW HONEYSUCKLE - TYPE OF SOIL
Honeysuckles thrive in well-drained, loamy soil, but many of the best kinds do not flower and fruit so well here as in countries where there is a colder winter and hotter summer.
There are kinds of honeysuckle for both shade and sun.
They resent dense shade, but the old "Scarlet Trumpet" variety of honeysuckle does remarkably well with just a few hours of sunshine a day, and it, often called Brownii or fuchsioides, is one of the best honeysuckles, in bloom from May to October.
The magnificent Lonicera tragophylla will also do in semi-shade, bearing its large orange-yellow clusters from June onwards.
VIGOROUS GROWING HONEYSUCKLES
Lonicera tragophylla is a vigorous grower of 15 feet or more, so needing plenty of scope and space, and so is its splendid hybrid, Lonicera Telmanniana, with fine heads of blossom, amber-yellow and bronze-red, over a long period.
Among many other varieties of honeysuckle, Lonicera Americana must be mentioned as a beautiful easy-going honeysuckle plant bearing from May to autumn a huge crop of cream-yellow and carmine delightfully scented flowers, a plant for any open position, no matter how exposed.
The old Dutch honeysuckle plants, relatives of woodbine, also have a long flowering season.
POPULAR HONEYSUCKLES
In the Lonicera Japonica group there are few to rival Lonicera Japonica Halliana, the white, richly scented blooms of which mature to primrose. This also is an all summer flowering honeysuckle which is easy to care for.
Two orange-scarlet, or deep yellow, American honeysuckles not to be missed by anyone having a fairly mild climate are Lonicera Sempervirens and Lonicera Ciliosa, the former "Trumpet Honeysuckle" having been grown in gardens for over 300 years.
PROPAGATING HONEYSUCKLE FROM SEED OR CUTTINGS
Honeysuckle or Lonicera may be easily propagated by seeds or cuttings.
Seeds are sown in March in a warm greenhouse in a mixture of two parts sandy loam and one part leafmould.
The young plants should be placed singly in small pots as soon as they are large enough to handle, and eventually he planted out on a reserve border.
Cuttings of young shoots (short side shoots are better than long, sappy growths) about 4 in. long, should be taken in July and dibbled in a bed of sand in a propagating case in a greenhouse, or placed in pots of sandy soil in a cold frame kept closed.
Roots will form in the course of a few weeks.
The young honeysuckle plants should be kept in a cold frame for the winter and be planted out in spring.
Honeysuckle can also be propagated by layering.
OTHER USEFUL ARTICLES ON GARDEN GROWER
Advice about growing Honeysuckle, also known as Lonicera, a fragrantly scented climber which is rapid in growth, and will soon fill up space on a wall, trellis, pergola or old tree stump.