ONION FLY (Hylemia antiqua).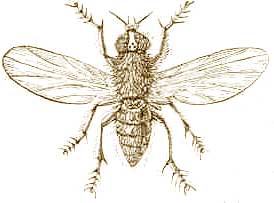 The onion fly is a two winged fly, grey in colour and is not unlike the common house fly.
It attacks young onions, shallots, garlic and leeks.
It lays its eggs around the young onions when they are about 2—3 inches high.
The resulting onion fly maggots, after eating their way into the developing bulb and completely hollowing it out, pass on to the next.
One onion fly maggot or larvae often destroys three or four onions before it becomes full grown and pupates.
A second generation of onion flies appears in late July or August. These onion flies again lay eggs which hatch into maggots.
Instead of the plant dying right out as when attacked at the young stage, the stem falls over and becomes yellow and limp.
At the same time bacteria may enter the bulb, causing a rapid rotting of the root.
When full-grown the larvae leave the bulbs to pupate in the soil.
METHODS OF CONTROLLING ONION FLY INFESTATION
Once onions are attacked by onion fly there is nothing that can be done, except to pull them up and burn them.
As a safeguard against attack, bring the onion plants through the early stages as rapidly as possible by applying suitable cultural methods. This can be done most easily by planting onion sets rather than growing from seed.
Gamma dust and calomel dust are the best insecticides to use to prevent trouble from an onion fly infestation.
OTHER USEFUL ARTICLES ON GARDEN GROWER
Onion Fly - Information, Control, Treatment, Advice about onion flies