VARIETIES OF BANANA (Musa)
Musa Cavendeshii: The Banana most generally cultivated in greenhouses in the UK.
Musa Ensete: Also known as the Abyssinian Banana . It is often treated as a half hardy plant and used for sub tropical bedding.
Musa Basjoo: The Japanese Banana.
Musa Sapiete: The commercially grown banana
GROWING GUIDES
SOCIETIES
HOW TO GROW BANANA PLANTS - MUSA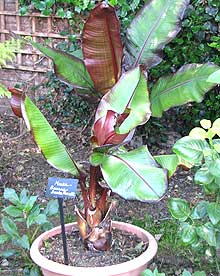 Musa or Banana are vigorous herbaccous plants, natives of China, Assam and other countries, which are suitable for cultivation in this country in a hothouse or greenhouse, or for planting out of doors in the summer months for the decorative value of their large and handsome leaves.
Banana plants belong to the family Musaceae.
The name honours Antonius Musa, physician to Octavius Augustus, Emperor of Rome.
GROWING BANANA PLANTS FOR FRUIT OR FOLIAGE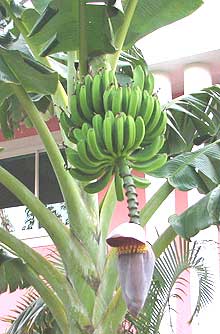 Few kinds of Banana are cultivated in this country.
The best variety to grow for the sake of its fruits is Musa Cavendishii. In the UK they will need to be grown in a greenhouse where they receive full sunlight and a minimum temperature of 65f to obtain fruit.
The two kinds most generally grown for the value of their ornamental foliage are Musa Ensete, the Abyssinian Banana, and M. Basjoo, Japanese Banana.
Banana plants are rarely seen in the UK except in public parks and gardens where they are sometimes used in what are called sub-tropical beds.
If set out of doors for the summer months a position sheltered from cold winds must be chosen for thc large leaves of the banana are tender and very easily damaged.
It is usual to cultivate banana plants in large pots or tubs, and to plunge these to the rims in tb flower beds in association with Palms and othei plants which give a sub-tropical effect.

---
---
GROWING BANANA PLANTS IN A HOTHOUSE
Banana plants are not difficult to grow in a hothouse in which a minimum winter temperature of 60 degrees is maintained.
They must be set in loamy soil with which decayed manure has been mixed.
During the summer mouths Banana plants require hot, shady, moist conditions.
In winter Banana plants need far less water, but the soil must not be allowed to become quite dry.
PROPAGATION OF BANANA PLANTS
An increased slock can be obtained by detaching suckers or offsets from the old plants and planting them in 6 inch pots.
When well rooted in these they should be repotted in large pots or tubs. In a large hothouse the

---
---
GARDENING RESOURCES ON GARDEN GROWER
How to grow banana plants - expert tips on planting varieties, care and cultivation