TREE SURGERY AND TREE MAINTENANCE SERVICES
Tree felling and tree surgery are skilled and potentially dangerous tasks which should really only be undertaken by a professional qualified tree surgeon.
Where there is no great risk of damage to property or people a tree, if it is not too large, can usually be cut down in one piece.
Where there is not much space or there are roads or buildings, or other garden features which must not be damaged roads, other features a tree surgeons may fell a tree in several parts or sections. This is known as sectional felling.
In some circumstances a tree surgeons will use cranes or set up a rigging system in restricted areas to stop larger branches from falling onto and damaging surrounding people and property.
GARDEN SUPPLIES
Tree Surgeons and Tree Services in the UK by County
Garden Grower have a directory of Tree Surgeons listed by County:
Bedfordshire Tree Care Services : A guide to businesses in Bedfordshire offering commercial and domestic tree surgery services including tree felling, stump removal and stump grinding.
Berkshire Tree Surgeons : Tree surgeons and arboricultural contractors providing tree pruning, site clearance, tree felling and removal services in Berkshire.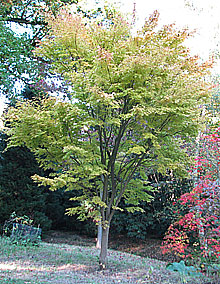 Buckinghamshire Tree Surgeons : Where to find a tree surgeon and tree fellers in Bucks.
Cambridgeshire Tree Surgeons : Tree Services in Cambridgeshire.
Cornwall Tree Surgeons : Directory of tree care services in the County of Cornwall UK.
Devon Tree Surgeons : Devon guide to businesses providing tree care such tree felling, tree pruning, tree transplanting and removal and stump grinding and removal.
Dorset Tree Care Services : Tree surgeons in Dorset.
Tree Surgeons Essex : Essex Tree Care businesses providing commercial and domestic tree surgery services.
Tree Surgery Hampshire : Hants Tree Surgery and Arboriculture Businesses.
Herefordshire Tree Surgeons : Tree care professionals in Herefordshire.
---
---
Kent Tree Care : Tree Consultancy, Tree Pruning, Shaping - find a Tree Surgeon in Kent, UK
Oxfordshire Tree Services : Find a tree feller or Aborist in Oxfordshire.
Somerset Tree Surgeons : Tree surgeons in Frome, Somerton, Taunton, Wellington, Shepton Mallet, Chard,Bridgwater and other areas of Somerset.
Suffolk Tree Surgeons: A county guide to finding tree services.
Surrey Tree Surgeons : A Guide to Companies providing Tree Surveys and Reports, Tree Surgery, Tree felling, Arborists, Pruning and Stump Grinding in Surrey, UK
West Sussex Tree Surgery : Tree Surgeons in and near Arundel, Chichester, Crawley, East Grinstead, Hambrook, Horsham Worthing and other areas of West Sussex.
Wiltshire Tree Surgery : Tree Care Services in and close to Cricklade, Swindon, Salisbury, Marlborough Trowbridge, Westbury and other areas of the county of Wiltshire
Yorkshire Tree Care : Tree Surgeons and Arborists in Yorkshire