CUCUMBER VARIETIES AND TYPES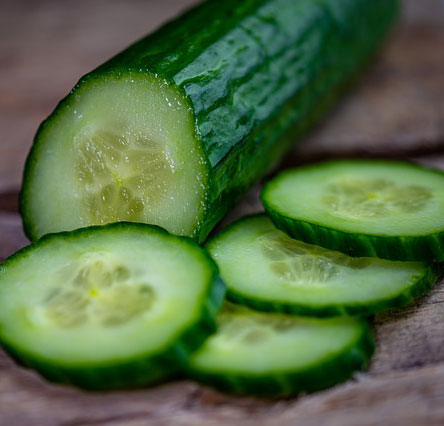 There are many different varieties of cucumbers available to choose from, each with its own flavor profile, texture, and culinary uses.
Whether you prefer a mild English cucumber for salads or a tangy Kirby cucumber for pickling, there is a cucumber variety to suit every preference.
In this article, we will explore some of the best cucumber varieties that you can consider growing in your garden.
ENGLISH CUCUMBER
Also known as the "burpless" cucumber, the English cucumber is long and slender with a thin skin.
It has a mild, sweet flavor and is often used in salads and sandwiches.
English cucumbers are seedless and have a crisp texture, making them perfect for slicing.
PERSIAN CUCUMBER
Similar to the English cucumber, Persian cucumbers are shorter and have a slightly thicker skin.
They are known for their crunchy texture and are often used in Mediterranean and Middle Eastern cuisines.
Persian cucumbers have a mild, refreshing taste and are great for snacking or pickling
KIRBY CUCUMBERS
Kirby cucumbers, also referred to as pickling cucumbers, are small and bumpy with a thin skin.
They are ideal for making pickles due to their firm flesh and high water content.
Kirby cucumbers have a slightly tangy taste and add a delightful crunch to any pickle recipe.
LEMON CUCUMBER
As the name suggests, lemon cucumbers are round and yellow, resembling a small lemon.
They have a mild, slightly sweet flavor and a thin skin that is tender enough to eat.
Lemon cucumbers are great for slicing and adding a pop of color to salads or garnishing dishes
ARMENIAN CUCUMBER
Also known as the snake cucumber, Armenian cucumbers are long and curved with a light green, ridged skin.
They have a mild, crisp texture and a subtle, refreshing taste.
Armenian cucumbers are often used in Mediterranean and Asian cuisines and can be enjoyed fresh or pickled.
SLICING CUCUMBER
Slicing cucumbers are the most common type of cucumber found in grocery stores.
They are medium-sized with a dark green skin and have a mild, watery flavor.
Slicing cucumbers are versatile and can be used in salads, sandwiches, or eaten on their own.
HOMEMADE VARIETIES
Apart from the commercially available cucumber varieties, you can also consider growing your own unique cucumber varieties in your garden.
There are many heirloom and hybrid cucumber seeds available that offer a wide range of shapes, sizes, and flavors.
Experimenting with different cucumber varieties can add excitement to your gardening experience and allow you to savor cucumbers with distinct characteristics.
---